Tasty, fresh and sensational dishes from around the globe will be found at Middle Temple's World Food Market this summer. In its second run, the pop-up eclectic foodie venture, organised by Epicurean Events, sees the charming Fountain Court area of Middle Temple transformed into a colourful bazaar, featuring a medley of diverse street food.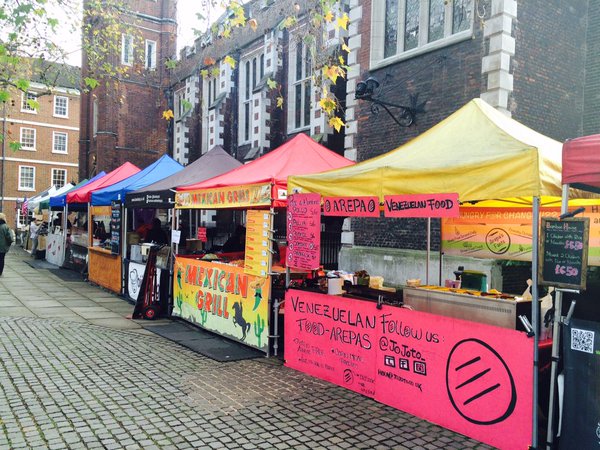 The World Food Market is open from 8th August – 30th September 2016, Monday - Friday from 11.00am - 3.00pm. The first two weeks feature the same foodie purveyors with the line-up alternating on a weekly basis thereafter, keeping it exciting for new and returning customers.
Our Champagne Bar will be featured from 30th August to 9th September and from 19th to 30th September, during the Street Food Market from 11am till 3pm and on the evenings of the respective Thursdays and Fridays. 
Vendors kicking off the culinary market experience at Middle Temple include Bamboo House Kitchen serving up Pan Asian cuisine, Sambel brings the unique flavour of Indonesian cooking, Real Paella dishes up authentic Spanish paella, Chunky Buddha provides a renowned fusion of Asian eats, Naughty Roti creates flavoursome Indian wraps, Moroccan Kitchen gives a taste of traditional Middle Eastern cuisine, Jerk & Juice brings Island heat with Caribbean favourites, Imbert Street Food serves traditional Italian delicacies and Claude's Boulangerie hits the sweet spot with gorgeous desserts and fancies. 
The market is open to all, Londoners are welcome to munch their way through the moreish plethora of dishes and enjoy them in the beautiful surroundings of Middle Temple. Updates will be shared via social media, follow the feed and get involved on Twitter: @MiddleTemple1 @EpicureanEvent #WorldFoodMarket and Instagram: @MiddleTemple1 @Epicurean_Events