Saluting our Sisters – Celebrating and recognising Black women
This year Black History Month is dedicated to 'Saluting Our Sisters', honouring the achievements of black women and highlighting the role they have played in shaping history and contributing to society.
Black History Month is an opportunity to recognise, celebrate, and understand the impact of black heritage and the contributions of black people to British society. Black History Month takes place every October, but respecting, honouring, and celebrating black history should take place all year round.
This year features titles such as 'Pioneering Voices', 'Breaking Barriers', and 'Women Who Lead', all of which feature black women who have used their voice to speak out, break down barriers, and make significant contributions to society.
Elaine Banton
Why did you become a barrister?
I grew up on a council estate in Hackney, and by age 7 was determined to become a barrister. This may have been influenced by what I noticed around me on the estate a sense of need for social justice. There were some extremely difficult times but, on that estate, I answered back and at school, I stood up for others. I learned to be independent, strong, and fearless all qualities that I have utilised well at the bar.
I held fast to that dream and the more I researched the career, the more it appealed to me. In my state comprehensive school, beset by funding issues, I remember being asked to slow down as my careers adviser took notes on how to qualify as a barrister, from me.
My mother, often working around the clock, was a powerful orator, active in her trade union, striking for better terms and conditions for nurses. As a young teenager, I assisted her and colleagues to successfully appeal their nursing grades. I recall compiling a detailed chart logging all the tasks she undertook at work. These were steps to ameliorate historic systemic disparities with black nurses undertaking the work of senior nurses but not being paid at the applicable grade (which stemmed from both the prescriptive and restrictive nature of their recruitment during the Windrush era). I later appreciated, looking back, that this was my first employment law win. Hence the synergy of this year's 75-year anniversary of both Windrush and the NHS resonates strongly with me, in the light of my mother's 40-year nursing career.
Who or what was your inspiration?
Role models were relatively hard to come by then, but I had the good fortune of being introduced to Courtenay Griffiths KC, before he took silk, when aged about 17. Later, attending his silks party, the support and inspiration he gave in equal measure has been something I have endeavoured to give back throughout my career, to thank the many who have generously assisted me along the way.
What has your experience been like?
My role as co-chair of the equality, diversity and social mobility committee in helping to facilitate initiatives, responding to consultation, and advising on bar council policy under the auspices of access, retention and progression for women and underrepresented groups, helping to shift the dial in equality and diversity, is most rewarding. As is working with barristers from differing practice areas, other committee chairs, stakeholders, and meeting office holders such as the director of public prosecutions, attorney general etc. While taking the opportunity to discuss diversity generally.
My wide and varied practice with a theme of equality, (particularly in the financial sector) encompasses matters such as disability, fertility, pregnancy, maternity, race, equal pay, and menopause. Pro bono work can be particularly rewarding, such as advice and advocacy given in an employment matter involving sexual trauma.
I recently gave evidence in parliament to the joint committee on human rights in the inquiry into human rights at work, alongside esteemed academics, debated the cab rank rule when speaking in Amsterdam at the Federation des Barreaux d'Europe and attended the CSW 67 as a delegate for un women uk. The international facets and richness of my work at the bar has undoubtedly led me to a variety of stimulating people and activities, from differing fields, with a compelling expansive opportunity for a wider reach.
My involvement with the arts (chair of Talawa Theatre and member of Sadlers Wells Development Council) has also traversed thematic issues of diversity as well as the opportunity to work with talented creative individuals. From a board leadership perspective, there was much to learn by helping to steer a theatre through the rigours of lockdown. I have also brought these insights gleaned to representing national arts institutions and performers, and recently presented to a senior group of theatre and arts executive directors on gender critical theory.
What obstacles have you faced?
Despite facing numerous challenges, overcoming obstacles, such as rejection, builds strength and resilience which I can attest, will serve you well during your career. Such as my appetite for appellate work stemming from my first early court of appeal group win, unled, and owed entirely to that fearlessness instilled within me.
What advice would you offer to aspiring barristers?
My advice to students is to take all the opportunities that present, to utilise their time at the inn well, get involved and make connections. Attending courts and tribunals as often as you can, even outside the confines of a mini-pupillage is useful, observing a variety of advocacy styles, and discerning what is effective. Becoming comfortable in these spaces will serve you well.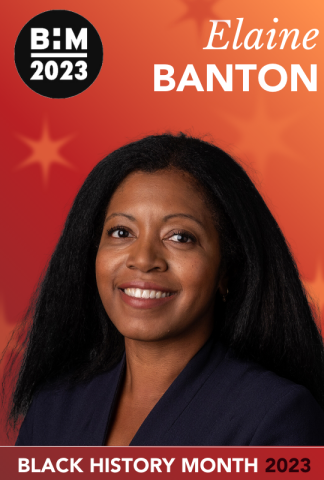 HHJ Leona Harrison
What has your experience been like?
After being awarded the Jules Thorn scholarship in 1992, I joined the Middle Temple. Without this funding, I would not have been able to train for the bar. I was called to the Bar in 1993 and I was fortunate to join Chambers in Liverpool and to practice at the vibrant family Bar on the northern circuit. I became a recorder in 2009 and I was appointed a circuit judge in 2022.
I met my housemates through a notice on the Middle Temple notice board. Thirty years later we are still best friends and godparents to each other's children. I am also married to a wonderful Middle Templar.
Middle Temple supported me as a student in bar school when I had to commute home to York each weekend to help care for my mother who had terminal cancer. She fought to stay with us until she knew I had completed my Bar finals exams.
Who was your inspiration?
I was blessed to have Anna Worrall KC as my sponsor. Dining with her was great fun on sponsors night.
What advice would you offer to aspiring barristers?
Never give up, believe you can find another way when necessary.
Don't let imposter syndrome bring you down, we all have it.
There are wonderful people at the bar who will help and support you; so take the opportunity to pay it forward.
Fight your case fearlessly, but always be kind.
Hard work will get its reward.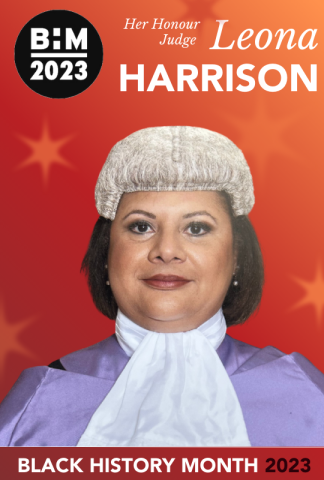 Em Lawton
Why did you become a barrister?
Being a black, disabled woman means that advocacy has always been a huge part of my life. For me, it's a survival skill. I was fortunate enough to be good at it, which is why I decided to become a barrister.
Who or what was your inspiration?
Growing up, I never saw any lawyers who looked like me. Representation was so poor that my inspiration, (Elle Woods from Legally Blonde) was a fictional character who was almost the complete antithesis of who I am. I do a lot of outreach work with children and young people, and it is always such an honour to be told that I have inspired them in some way. I didnt have that, so such comments motivate me to keep going.
What advice would you offer to aspiring barristers?
To any aspiring barristers out there: be yourself. Stay true to who you are, remember where you have come from but focus on where you are going.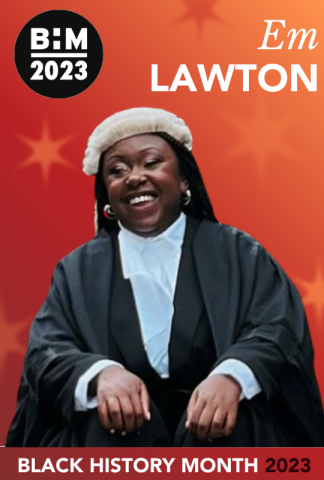 Laisha Johnson
Why did you become a barrister?
I chose to become a barrister because I wanted to use my voice to make a difference. Growing up, I always felt as if I didn't have a voice to stand up for myself. I did not believe I had the courage to speak up against those who mistreated me. Secondary school was always challenging for me. I struggled to make friends and experienced severe bullying which impacted my life for many years. I had no confidence and struggled with low self-esteem. I had convinced myself for so long that my voice did not matter. But coming to the bar, I have never felt more sure that I have a voice, I can feel empowered to use it and I can encourage others to listen to what I have to say. I want to become a barrister to prove to myself that my voice matters and that it has great power to bring positive change in our society.
Who or what was your inspiration?
I would say my inspiration has been the representation of black women at the bar. It is so encouraging to see that so many women who look like me can become barristers and strive to make a difference in society. Having this representation reminded me that is it very much possible and that there is no limit in what I desire to be and do in life.
What has your experience been like?
My proudest life achievement so far is being called to the Bar of England and Wales in November 2022. This is because I have experienced many challenges in my life but have shown nothing but resilience and determination to overcome. In August 2018, I was diagnosed with depression and anxiety and in February 2020, I had made 3 attempts to take my own life. I enrolled on the bar course in September 2019, even though my therapist told me I wouldn't be able to handle it. The bar course was immensely difficult as there were many times I could not attend classes and I had to defer a lot of assessments. I felt as if I was looked down on from course tutors and classmates because I was quiet and missed a lot of classes. It took me a little longer to complete the course in comparison to my classmates because of my mental condition. Nevertheless, I pressed on and believed that I could achieve despite my disability.
What obstacles have you faced?
My journey to the bar has not been a straight road. I have faced many challenges and obstacles, but everything i have been through has shaped me into the person I am today.
What advice would you offer to aspiring barristers?
My advice to other students coming to the bar that may be faced with similar obstacles is to always believe in yourself. What you think about yourself is very important. If becoming a barrister is what you want to achieve, don't let anything stop you.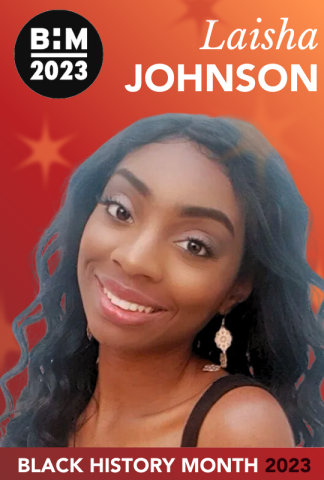 HHJ Judy Khan KC
Why did you become a barrister?
I didn't initially consider being a barrister. I did a law degree because I thought it was versatile; I had initially considered being a lecturer. I applied for bar school and, thereafter, pupillage to keep my options open. I was offered pupillage, but I wasn't going to take it up because of my concerns about discrimination (class, race, and gender), but my dad read me the riot act. He said the only person defeating me would be myself if I did not go for it. Fortunately, when I started pupillage, I loved it and I have never looked back.
Who or what was your inspiration?
My biggest general inspiration was wanting to do the very best I could for each client. My biggest personal inspiration was Courtenay Griffiths kc, who encouraged me to apply to Garden Court Chambers in 1996. He is also from a working-class background and of Caribbean origin. He made me realise that I could belong, and even succeed, in this profession.
What has your experience been like?
My parents came from the Caribbean in the late 50s as part of the Windrush generation. My father came from Trinidad and my mother came from Barbados. My father worked nights for London Transport and my mum came here to train to be a nurse.
My generation was the first on both sides of the family to study to university/degree level. I was state school educated at a comprehensive school in Brent.
I was called to the bar in 1989 and appointed as a recorder in 2007. I was appointed as a QC in 2010 and appointed as a senior circuit judge at the central criminal court this year.
When I look back on my early days at the bar, I felt very different to many of my peers due to my background and ethnicity. Happily, the bar has gradually become much more diverse and is very much more inclusive than it was when I started out.
Overall, my experience at the bar was extremely positive. I loved the fact that no two days were the same and I have always found criminal cases hugely interesting. I enjoyed representing defendants and giving them a voice.
What obstacles have you faced?
In the very early years, I found it difficult when I felt that I didn't quite fit in. Sometimes things were said or done which were likely to have been based on prejudice. There were occasions when people said things that were overtly discriminatory, and I would challenge them. Otherwise, I just got on with working hard and trying to do the job and each case to the best of my ability.
I also suffered (indeed, still suffer) from imposter syndrome although this wasn't a recognised thing when I started out. I have mostly dealt with that by working hard so that I am always properly prepared for any given day and by cultivating some self-belief.
Afiya Amesu
Why did you become a barrister? 
When I was in sixth form, I had the opportunity to watch Yaël Farber's production, 'Nirbhaya', a poignant portrayal of women who had endured gender-based violence. What struck me was that some of the actresses in the play were themselves survivors, displaying immense courage by sharing their own stories and advocating on behalf of other women who shared similar experiences. This experience had a profound impact on me. After watching 'Nirbhaya', I delved into Helena Kennedy KC's 'Eve was Framed', a book that opened my eyes to the systemic injustice that women, particularly Black women, experienced within the legal system. It was a challenging revelation that motivated me to play a role in addressing these issues and use my voice to speak to issues of injustice.
Who or what was your inspiration?  
My mum is my source of inspiration! In the 1990s, as she was about to commence pupillage, she fell pregnant with me. Despite this unexpected turn of events, my mum made a deliberate choice to press forward and continue pursuing a career at the Bar. She was called to the Bar in 1997, gave birth to me and then started pupillage a few months later. My mum's determination and courage, at a time when representation of minorities at the Bar was limited and pupillage difficult to obtain, inspires me. She demonstrated resilience at the Bar and exemplified the power of ardently pursing one's goals. I am grateful to follow in her footsteps as a Middle Templar."
What obstacles have you faced?
Rather than merely an obstacle, there is an undeniable reality of being a Black woman at the Bar. The constant mispronunciation and misspelling of my name, along with the constant need to correct these errors, can be wearing. Further, there is a persistent battle with imposter syndrome, particularly when you are acutely aware of being the only Black person/person of colour in the room. The nagging doubt about whether your hairstyle is considered 'professional-enough' adds another layer of strain to this experience.
What advice would you offer to aspiring barristers?
Be your authentic self. What's truly remarkable about the Bar is that every barrister is different. Each person carries their own lived experience that enables them to see a case, a client, or an issue from a unique perspective. The diversity of backgrounds brings with it a wealth of opinions and ideas that allow for a range of thought processes and approaches. To uphold and nurture this diversity, you need to be yourself. Draw on your unique life experiences as they bring value and empower you to make meaningful contributions to the profession.