COVID-19 Update (07/08/20): Qualifying Sessions will start again in October 2020.  In response to the current uncertainty, QS will remain online next term and we hope to emulate the success we have seen so far with previous online sessions.  We will release the timetable for the Michaelmas term at https://www.middletemple.org.uk/events in early-mid September.​
We cannot hope to replicate the full effect and value of the qualifying sessions which take place normally within the Inn and on circuit; however, with the help of many benchers and members of the Inn, we plan to offer a substantial number of free remote sessions including:
Sherrard Conversations
Advice on Practice sessions
Advocacy workshops & masterclasses
 
The emphasis will be on providing interactive sessions which will enable those who are participating to gain the maximum benefit possible in these difficult circumstances.  
The sessions will be advertised on the Inn's website along with booking details very soon. 
All students are currently required to attend 12 Qualifying Sessions before Call to the Bar.
You will find details on what is happening on any given night in the Inn Calendar. The compulsory 12 Qualifying Sessions must be attended during a period of no more than five years ending on the date on which that person is Called to the Bar. Most students manage to fit them into a single year. Many students enjoy the experience and ambience of dining in Hall and may also have lunch in Hall regularly. Students and members alike are encouraged to continue to attend Qualifying Sessions throughout their career and to bring guests as often as possible.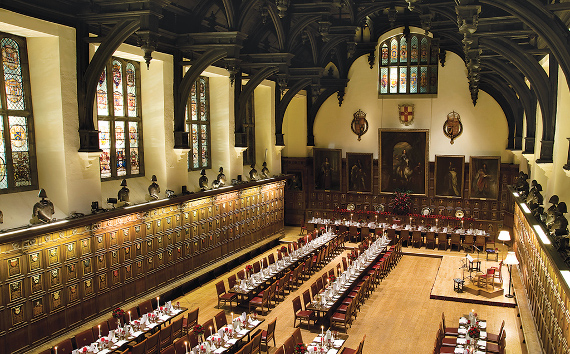 Most Qualifying Sessions take the form of a collegiate event in Hall, combined with a talk or other educational element, but attendance at an Advocacy Weekend, Education Day and the Introduction Weekend for those students attending the BPTC outside London, also count. Certain other educational events may also be accredited. In addition, students undertaking the BPTC at providers outside London may arrange up to three Qualifying Sessions locally; their provider will organise a fourth.  The Inn subsidises the cost of student members' tickets in order to keep the cost as low as possible. 
As the collegiate part of the Qualifying Sessions invariably involves a meal or other refreshments, those who observe Ramadan may want to try and avoid booking QS within that period. For those who do wish to attend a QS during Ramadan, click here for the options. Please note that you will have to stay until the end of the QS.
Details of upcoming events can be viewed in the Inn Calendar.
To be credited with a Qualifying Session, students and transferring lawyers must;
Attend all the elements of a Qualifying Session in order to be confirmed as having attended. Depending on the programme of the evening, this might include a combination of pre-dinner lecture/moot, dinner, music recital, after dinner speech. If a student arrives late, they might be allowed to attend the event at the discretion of the Events staff, however they will not be awarded the qualifying session.  It is the student's responsibility to check start times on the website.
Arrive on time - latecomers will not be awarded the QS. Please ensure that you allow sufficient time to check any coats/bags into the cloakroom and put on a gown (where applicable) before the event is due to start.
Hand in their ticket to the Front of House Staff, who record attendance. The onus is on member to hand in their ticket and thus to make sure that their attendance goes on record. 
Stay until the end of the event.  Details of timings for each QS are provided on the website.  In exceptional circumstances, students may seek permission to leave early. In order to do so, they will need to contact the Treasury Office by email to request permission beforehand. If permission is given, students should bring a printout of the email to show to the Front of House staff if requested.
Out of London (OOL) Students
We appreciate that students undertaking the BPTC at a provider on Circuit will find it more difficult to attend Qualifying Sessions at the Inn. To alleviate the problem, we are making most QS available to Out of London (OOL) students free of charge. The exceptions are the residential weekends at Cumberland Lodge and in York, which are heavily subsidised for all participating students, and some events in Hall for which a small surcharge is made.  Please note that once an OOL student has booked 12 QS (including events on Circuit) they will be charged the standard student rate.
An OOL student may complete up to a maximum of four of the required twelve QS on Circuit by attending the BPTC dinner arranged by their provider and QS organised in conjunction with the Inn by fellow students.  There may be a charge for local events.
If you do not attend an event that you have booked, this will still be counted as one of your complimentary sessions.  However, if you provide sufficient notice before the event (2 clear working days) you can cancel your ticket to avoid the QS counting towards your free allowance.
Please note that your Out of London (OOL) discount will not be applied to tickets that you book online until the Inn receives the enrolment lists from the BPTC providers.  For this reason, the Introductory Weekend (and other events at the beginning of term) will be booked via an online form.  
Please note;
Dinners in Hall are formal occasions and all present should always be respectably dressed in appropriate clothes having regard to the nature of the occasion. Click here for more details on dress codes for Inn Events.
There are certain rules and customs that members and guests are expected to observe when attending formal Qualifying Sessions at the Inn.  Click here for more details on dining rules and customs.
Students are permitted to bring laptops, iPads and other notetaking devices to Qualifying Sessions but should be advised that they do so at their own risk. Electronic devices larger than a smart phone should be stored in the cloakroom during dinner.
On request the Inn can cater for certain dietary requirements.  Click here for more details on dietary requirements.
Qualifying sessions are a requirement stipulated by the Bar Standards Board. To seek exemption from Qualifying Sessions contact the BSB via authorisations@barstandardsboard.org.uk. Further information is available in the BSB's Bar Qualification Manual.