Middle Temple's buildings are an interesting mix of differing ages, architectural styles and construction methods. Located around open courtyards and gardens, they create a peaceful oasis from the hustle and bustle of the surrounding city.
A large part of the Inn's estate is held under 'Letters Patent' granted by James I in 1608, although since that date we have acquired a number of freehold properties, principally along our north and west site boundaries.
Many of our 43 buildings are listed Grade I, II* and II with the whole site designated as a Conservation area. The Temple is a gated community with the external gates locked at night, over weekends and on Bank and Public Holidays. All of the roadways, courtyards and gardens are private land over which there is no Public Right of Way.
The Inn suffered heavily from enemy bombing during World War II with the result that a number of the buildings you see today are of post war construction. None the less, they were designed with such care and attention by the architect, Sir Edward Maufe, that the casual observer will not immediately distinguish them. Luckily, Middle Temple Hall, completed in 1573, escaped significant damage and remains one of the most magnificent original examples of an Elizabethan banqueting Hall with double hammer-beam roof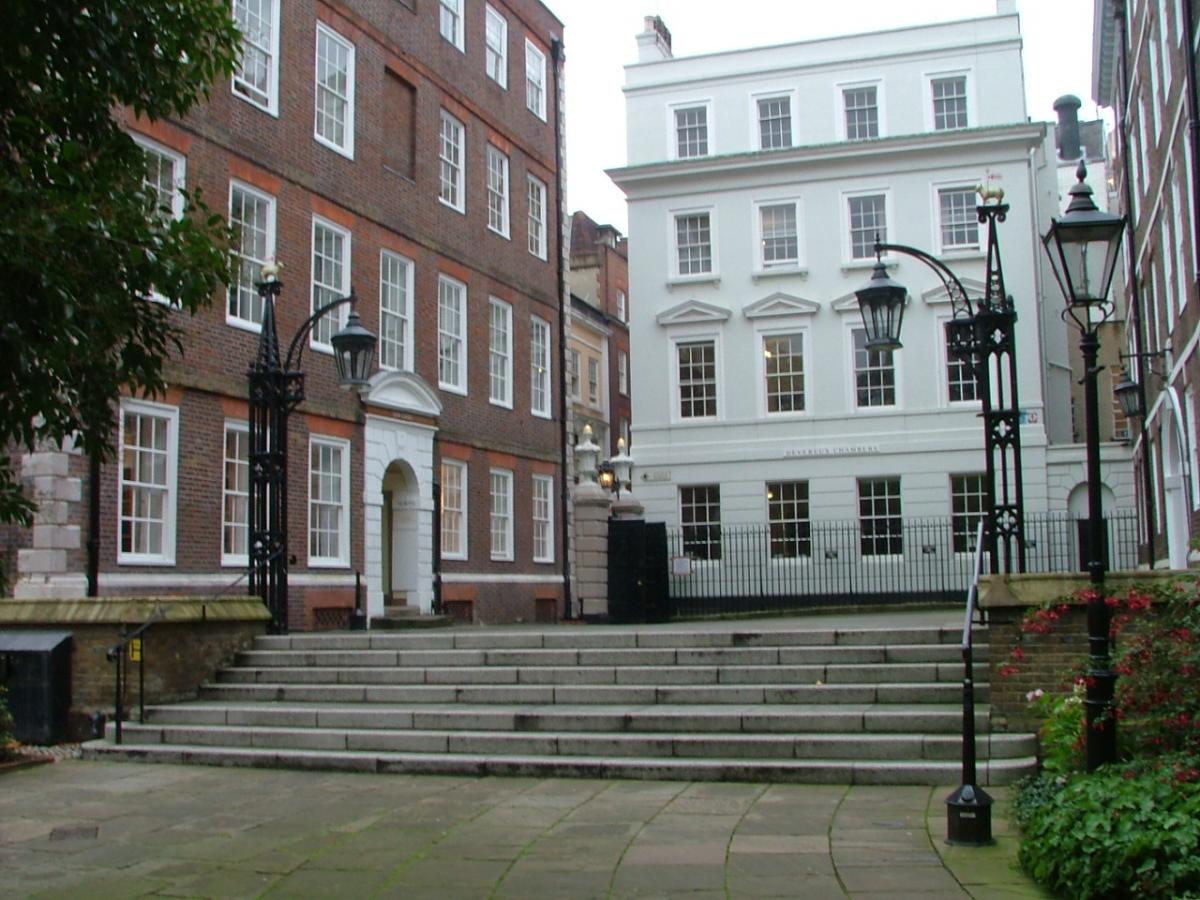 The following table provides brief information about the Inn's buildings and this will be expanded in due course to provide a more detailed description and history of each property.
| | | | |
| --- | --- | --- | --- |
| BUILDING | BUILT | ARCHITECT | LISTED |
| Ashley   Building | 1958 | Sir   Edward Maufe | No |
| Blackstone   House | 1953 | Unknown | No |
| 1   Brick Court | 1908 | Walding   and Sir Aston Webb | II |
| 4   Brick Court | 1882 | J.P.   St. Aubyn | No |
| Burnton   Buildings | 1885 | R.W.   Edis | II* |
| Carpmael   Building | 1955 | Sir   Edward Maufe | No |
| Cloisters | 1952 | Sir   Edward Maufe | No |
| Devereux   Chambers | 1790 | Nicholas   Barbon | II |
| 9   Devereux Court | 1952 | Unknown | No |
| 1   Essex Court | 1685 | Nicholas   Barbon | I |
| 2   Essex Court | 1677 | Nicholas   Barbon | I |
| 3   Essex Court | 1677 | Nicholas   Barbon | I |
| 4   Essex Court | 1720 | Unknown | II* |
| 4a   Essex Court | 1930 | Clyde   Young | No |
| 5   Essex Court | 1882 | J.P.   St. Aubyn | No |
| 35   Essex Street | 1675 | Nicholas   Barbon | II |
| Fountain   Court | 1675-1880 | Nicholas   Barbon | I |
| 1   Garden Court | 1884 | J.P.   St. Aubyn | II |
| 2   Garden Court | 1884 | J.P.   St. Aubyn | II |
| Goldsmith   Building | 1861 | J.P.   St. Aubyn | II |
| Lamb   Building | 1954 | Sir   Edward Maufe | No |
| Middle   Temple Hall | 1573 | Carpenter   'Lewis' | I |
| 1   Middle Temple Lane | 1684 | Unknown | II* |
| 1a   Middle Temple Lane | 1684 | Roger   North | I & II* |
| 1b   Middle Temple Lane | 1693 | Unknown | I |
| 2   Middle Temple Lane | 1693 | Unknown | II* |
| 3   Middle Temple Lane | 1680 | Unknown | II* |
| 4   Middle Temple Lane | 1780 | Unknown | II* |
| New   Court | 1676 | Nicholas   Barbon | I |
| 1   Plowden Buildings | 1831 | Henry   Hakewill and James Savage | No |
| 2   Plowden Buildings | 1831 | Henry   Hakewill and James Savage | No |
| 1   Pump Court | 1952 | Sir   Edward Maufe | No |
| 2   Pump Court | 1952 | Sir   Edward Maufe | No |
| 3   Pump Court | 1952 | Sir   Edward Maufe | No |
| 4   Pump Court | 1952 | Sir   Edward Maufe | No |
| 4   Pump Court (North) | 1686 | Unknown | I |
| 5   Pump Court | 1686 | Unknown | I |
| 6   Pump Court | 1686 | Unknown | I |
| Queen   Elizabeth Building | 1959 | Sir   Edward Maufe | No |
| 3   Temple Gardens | 1878 | E.M.   Barry | II |