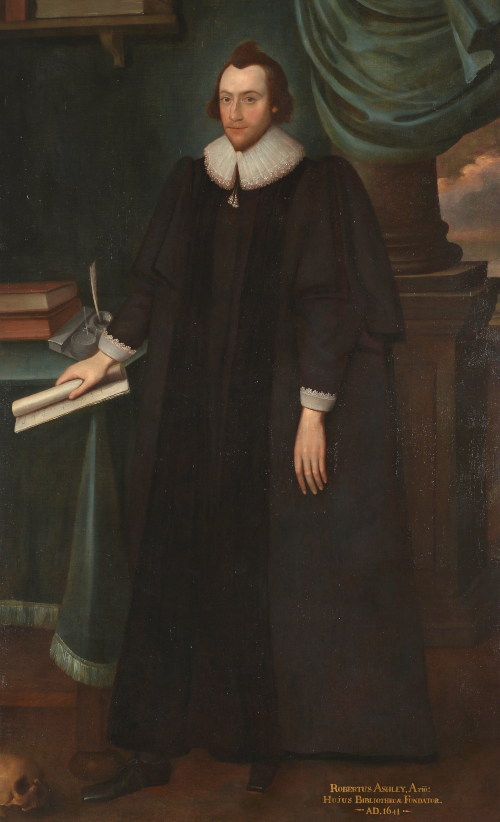 Robert Ashley, a member of the Middle Temple, died in 1641, bequeathing all of his books to the Inn to found a library there, and £300 to employ a Library Keeper. While Ashley did practise as a lawyer, he was more successful as a translator and bibliophile. William Cox was one of the executors of Ashley's will and was commissioned to create a catalogue of his books; Cox was the first Library Keeper from 1642 to 1655.
It is unclear whether the catalogues currently deposited in the Archive of the Middle Temple were those originally compiled by Cox. The Library Keeper was obliged to sign a bond for the books and perform an inventory against it; the earliest such inventory signature is that of Pawlett Barrow and is dated 1 January 1684. The second entries are signed by Benjamin Goodwin and dated 1688 and 1691; the last entries are unsigned dated 1696/7. These inventories list missing ('wanting') books, identified by their shelfmark. The catalogues do not bear Cox's signature, and the handwriting for the entries differs throughout each catalogue volume and between volumes. A handwritten annotation in catalogue 7, shelfmark 7I13 suggests that there was an earlier catalogue, as it reads: 'wanting in the other catalogue'. Entries are not duplicated across catalogues.
The catalogues are arranged by bays ('seate'), then by the side of the room (A and B). Within each 'seate' the books are arranged by size, from folios to the smaller octavo and duodecimo sized books. Each of the size categories is assigned a letter, from A to K (not every catalogue runs as high as K). Each book is then individually numbered within their size categories, resulting in a shelfmark such as 1A1. Some numbered entries were left blank, but the reason why is unclear.
Ashley's collection was put into storage (remaining in his chambers) immediately after his death (presumably due to the outbreak of the Civil War) and was not unpacked until after the end of the war.
The catalogues are arranged as follows:
First Seate A Side: Miscellany of humanity poets, orations, letters, romances, and some peices of heraldry (MT.9/LCA/1)
Second Seate A Side: Naturall philosophy medicine & chimistry (MT.9/LCA/2)
Third Seate A Side: Morall philosophy and politickes (MT.9/LCA/3)
Fourth Seate A Side: Naturall philosophy phisick and chemistry (MT.9/LCA/4)
Fifth Seate A Side: Com[m]on law of England (MT.9/LCA/5)
Sixth Seate A Side: History's of England, Scotland and Ireland (MT.9/LCA/6)
Seventh Seate A Side: Ecclesiasticall history and counsells (MT.9/LCA/7)
Eighth Seate A Side: Bibles and Fathers (MT.9/LCA/8)
First Seate B Side: Philology, Criticks and Dictionarys (MT.9/LCA/9)
Second Seate B Side: Historys of nations in particular (MT.9/LCA/10)
Third Seate B Side: Generall history, geography and travels (MT.9/LCA/11)
Fourth Seate B Side: Mathematicall sciences (MT.9/LCA/12)
Fifth Seate B Side: Civill and canon law (MT.9/LCA/13)
Sixth Seate B Side: Lawes of nations (MT.9/LCA/14)
Seventh Seate B Side: Comentaryes and miscellanyes divinity (MT.9/LCA/15)
Eighth Seate B Side: Controversiall and scholasticall divinity (MT.9/LCA/16)