For over 330 years, the three Stuart portraits of Charles I, Charles II and James Duke of York have looked down from the west wall of Hall on generations of Benchers at High Table below, and on generations of students and barristers mooting and attending Readings, dining and revelling in the great Elizabethan Hall that was already over a century old when the pictures were acquired.  This engraving depicts the scene at the end of the 17th century.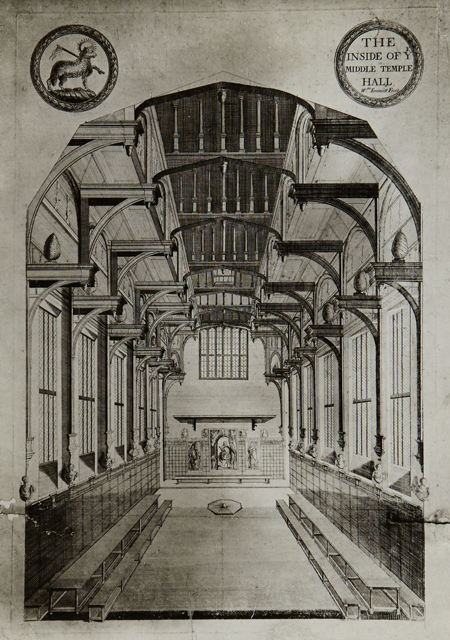 'The Inside of Ye Middle Temple Hall', engraving by William Emmett, c1700 (MT.19/ILL/D2/44)
The striking central painting shows King Charles I in armour astride his horse and accompanied by M. de St Antoine, his riding master.  This composition was produced by the fashionable Flemish artist, Anthony van Dyck, for the king in 1633, shortly after his appointment as Principal Painter and today that original painting is in the Royal Collection. It was a masterpiece of both art and propaganda, presenting an image of the king in regal and serene control at a time when in fact political unrest was increasing and the kingdom was heading towards civil war. Van Dyck painted a copy of it a couple of years later for the Earl of Caernarvon for Highclere Castle (familiar to viewers of Downton Abbey) and another version may be seen in the National Gallery.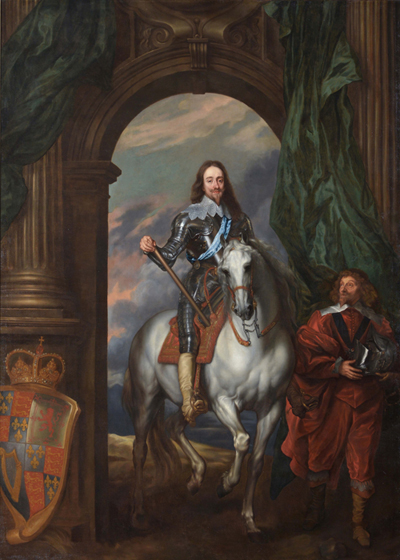 Equestrian portrait of King Charles I, after Van Dyck
The Middle Temple painting is thought to be a high quality copy, possibly by Sir Peter Lely, who was a great admirer of van Dyck and is known to have copied his works.  The receipt for this painting (£30 plus £10 for the frame) and for the portrait of Charles I's younger son, James, Duke of York, later King James II (£10 plus £8 for the frame) dated 1684, is held in the Archive.  Roger North, an executor of Lely's will on his death in 1680 and guardian of his two illegitimate children, was Treasurer of the Inn in 1683-4, and would have been aware of the contents of Lely's collection, dispersed after his death for the then immense sum of £26,000.  The Inn purchased these two paintings from the dealer Frederick Sonnius.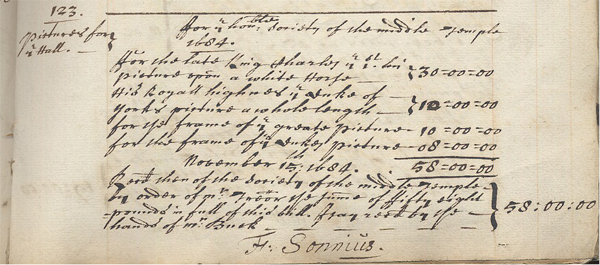 Receipt for the purchase of portraits of King Charles I and James, Duke of York, 1684 (MT.2/TRB/42)
The Duke of York was a Royal Bencher of the Inner Temple and had personally helped fight the Great Fire of London that was finally halted on the boundary of Inner and Middle Temple.  His portrait underwent conservation at the Hamilton-Kerr Institute, Cambridge, in 2015-16 and was subsequently on loan to Inner Temple to hang in their Hall over their commemoration of the 350 th anniversary of the Great Fire.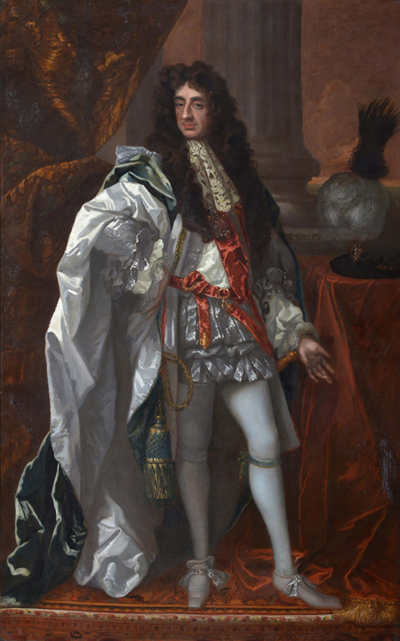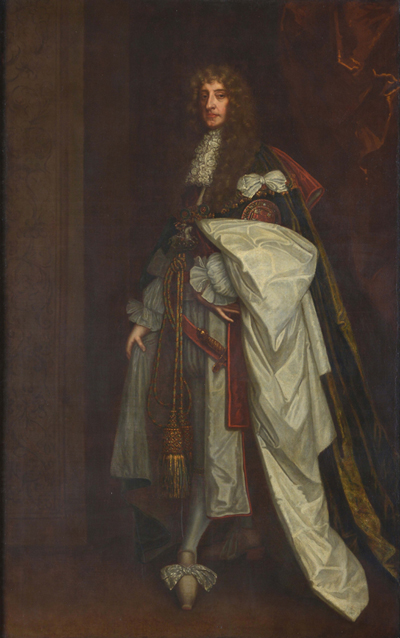 Portraits of King Charles II and James, Duke of York in Garter robes
There is no record of the Inn's acquisition of the portrait of King Charles II or of the artist, but presumably it was acquired during Charles II's reign (probably as a gift as there is no evidence of any such purchase in the receipt book) at a similar time to the portraits of his late father and of his younger brother and heir, the Duke of York, for the group of three portraits to form the focal point above High Table.  The first reference to it is a receipt for its cleaning in October 1694.  It was attributed to Sir Godfrey Kneller (1646 – 1723) in Williamson's Catalogue of Middle Temple Paintings , but others have thought it more likely to have been painted by John Riley (1646 – 1691), one of the sons of William Ryley, Lancaster Herald and Keeper of the Records in the Tower of London.  In 1689 Riley was appointed court painter jointly with Sir Godfrey Kneller to King William III and Queen Mary II.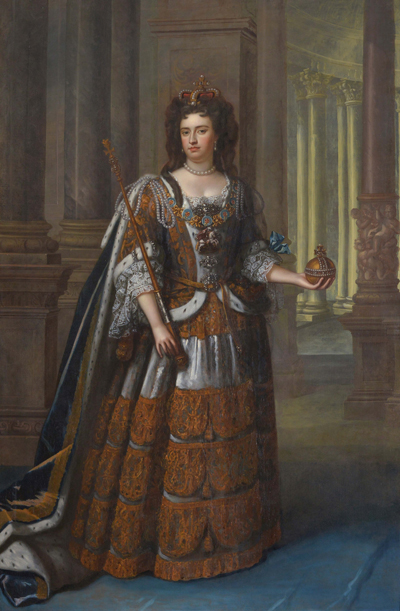 Portrait of Queen Anne in coronation robes by Thomas Murray
On 27 November 1702, shortly after her accession, Middle Temple's Parliament directed the Treasurer to commission a portrait of Queen Anne to hang at the west end of Hall over the Bench table.  The intended artist was to be "Mr Dalle" [Michael Dahl], "unless Master Treasurer thinkes fitt to make use of another hande".  The artist who actually carried out the commission was not Dahl but Thomas Murray, who signed a receipt on 9 November 1703 for £53 15s "for drawing her Majesties picture at full length and frame for it now sett up in the Middle Temple Hall" and for a further 2s 6d for the frame maker to put it up in Hall.  Thomas Murray (1663 – 1734) was a prominent Scottish portrait painter who received his first art lessons from the De Critz family and subsequently became a pupil of John Riley.

Receipt for the portrait of Queen Anne, 9 November 1703 (MT.2/TRB/61)
The Inn must have been pleased with Murray's painting because in 1725 they bought from him his portrait of the late King William III.  The turbulence of the 17 th Century had repeatedly divided the Inn – Civil War, Rye House Plot, Monmouth Rebellion (and the Duke of Monmouth was a Middle Templar) and the so-called Glorious Revolution in which William of Orange ousted his father-in-law James II and sent the Stuarts into exile.  Yet by 1725, with the Hanoverians on the throne and the Jacobite Rising of 1715 defeated, the portraits of those two antagonists at the Battle of the Boyne, James II and William III, could hang side-by-side in positions of honour in Middle Temple Hall, where they are today.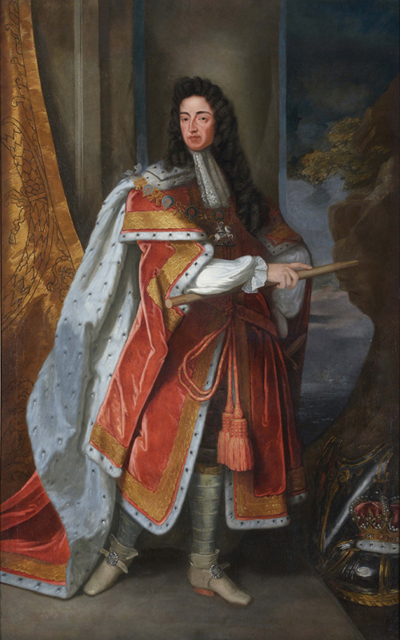 Portrait of King William III in coronation robes by Thomas Murray
To the far left hangs a portrait of the first Hanoverian monarch, George I, by Enoch Seeman, from whom the Inn commissioned this portrait for £50 in 1717.  Seeman was born in Danzig (present day Gdansk) in around 1694 and was brought by his artist father to London in 1704.  Horace Walpole records Seeman "much in business" (Works, 1798 edition, Vol. III, p 426).  He also painted George II and Queen Caroline and is represented in the Royal Collection, Yale University Art Gallery and the Metropolitan Museum.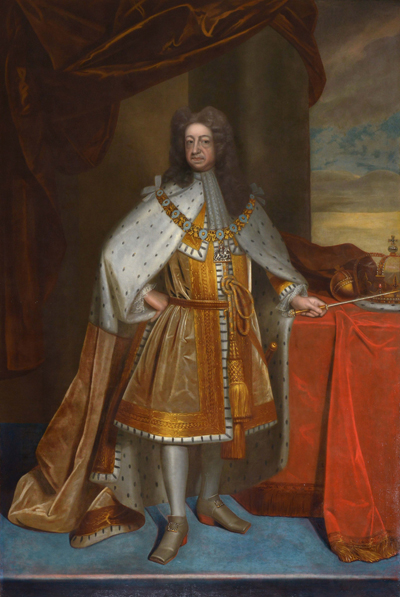 Portrait of King George I in coronation robes by Enoch Seeman
In an attempt to remedy its lack of a portrait of the queen in whose reign Middle Temple Hall was built on Crown Land, the Inn purchased this picture from J. Flack for £11 and the frame for £7 in August 1879.  Williamson, in his Catalogue of Middle Temple Paintings , suggests that Marcus Gheeraerts was the probable painter, but this is unlikely.   Gheeraerts, born in 1561/2 in Bruges, was the son of Marcus Gheerarts the Elder.  He became an artist of the Tudor court and was particularly fashionable in the last decade of Elizabeth's reign.  This portrait is now thought to be a later copy, influenced by a similar painting in the National Portrait Gallery (NPG 542), described as an early 17th century panel painting with 18th century overpainting.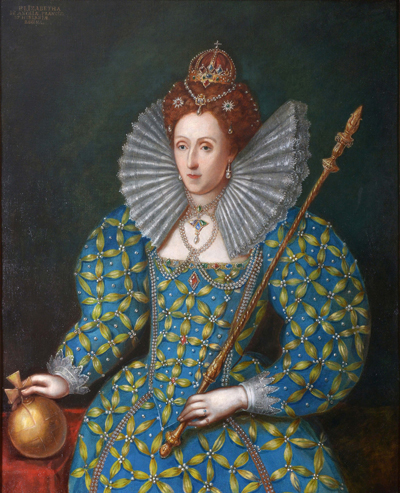 Portrait of Queen Elizabeth I with orb & sceptre
Over the centuries, records indicate that these paintings have undergone cleaning and maintenance throughout their time at the Inn. They were removed from Hall during the Second World War to protect them from the German bombs, and the portrait of King Charles I was rolled up and stored in the wine vault of Lincoln's Inn – no doubt one of the safest and securest locations to be found. A rolling programme of painting conservation continues today, thus maintaining the condition and appearance of this fine collection for present and future generations at the Inn.