Legal and Ethical Issues Raised by Rules around Vaccinations for Covid 19 [ONLINE]
Online registration has ended for this event
Location
Online via Zoom (joining link will be circulated via email)
Timings
18:00 - 19:30
Please ensure that you have joined before the event is due to start.
(Zoom Meeting 'room' will be open from 17:45)
Dress code
Smart Casual
Event Details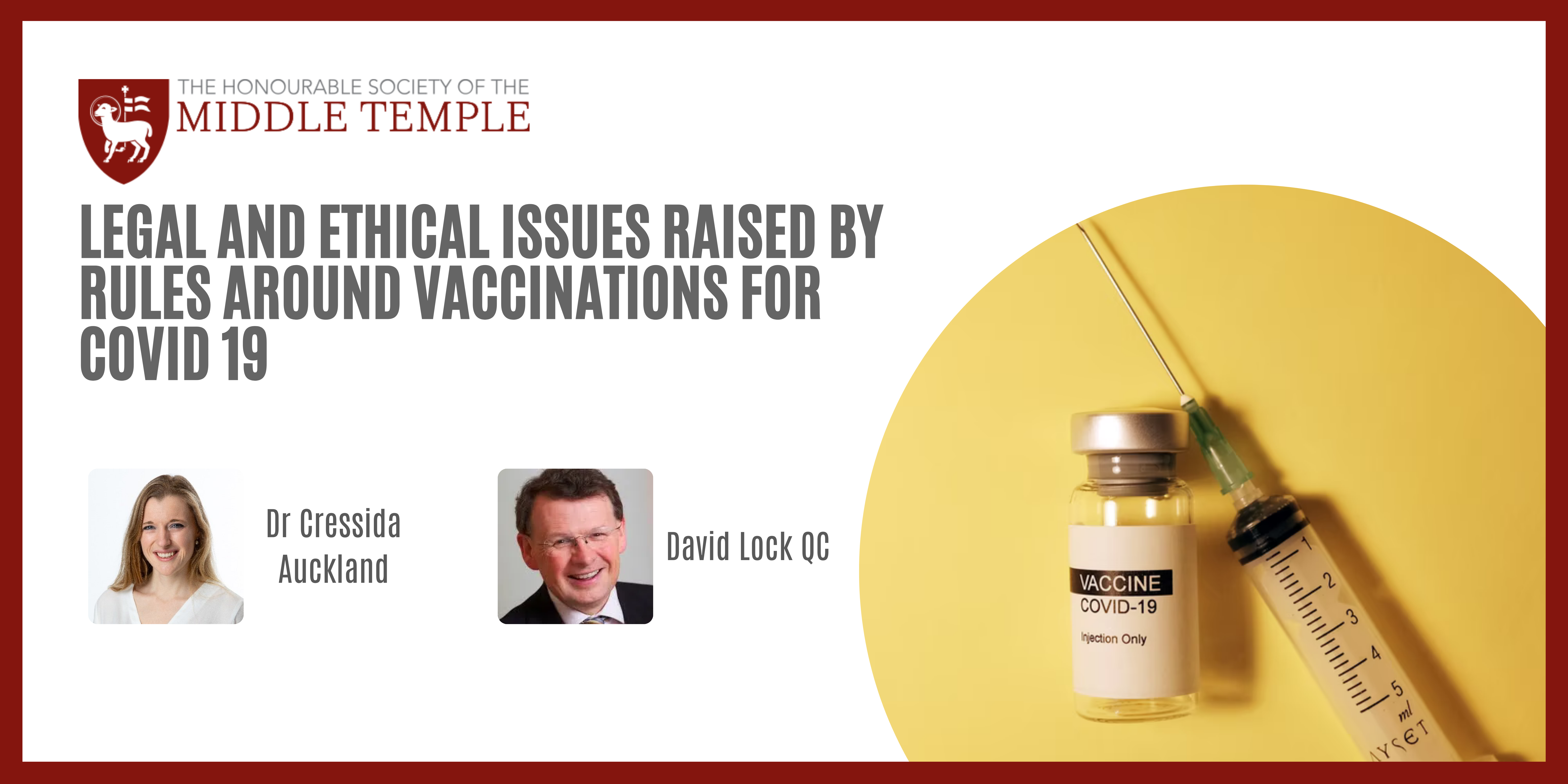 All members of the Inn are welcome to attend.
This session will be led by Dr Cressida Auckland and David Lock QC.
This session will explore a number of the legal and ethical issues that have arisen as a result of the development of a vaccination for Covid 19. It will begin by setting out the approach taken in law to vaccinations generally, and explore the legal context of vaccinations within the Covid 19 pandemic.

The speakers will then consider the various contexts in which measures of de facto compulsion may arise for particular groups of people and the extent to which de facto compulsion breaches either ethical norms or legal standards. Those contexts include:
Making vaccinations compulsory for employees before they can come to work in a workplace, such as an office or factory
Making vaccinations compulsory for employees before they are permitted to deliver public services or work in a private service environment
Making vaccinations compulsory for employees for NHS or care workers who interact with patients or service users
Making vaccinations compulsory for customers of a private business
Vaccine passports which make vaccinations compulsory for anyone wanting to travel internationally including using an airline
Finally the talk will consider the legal and ethical implications of vaccinating children, including where this is done primarily for social or educational (as opposed to health) benefits and the government's policy of permitting 12-15 year olds with capacity to be vaccinated without parental consent.
---
David Lock QC is a barrister at Landmark Chambers specialising in public law, and a Deputy High Court Judge sitting in the Queen's Bench and Family Divisions. He is currently the Legal500 Public Law silk of the year. David has particular expertise in healthcare law and the law of the NHS and is the lead author of NHS Law and Practice, the only practitioner's guide to the law of the NHS. He has advised numerous NHS bodies on issues relating to the Covid 19 pandemic, including on the legal implications of making vaccinations compulsory for employees who interact with patients or service users, and was involved in challenges to the 'substantial meal' requirement. He is also a member of the British Medical Association's Ethics Committee, and has experience in government policy making, having served as a Member of Parliament and a Justice Minster.
Dr Cressida Auckland is an Assistant Professor in Medical Law at the London School of Economics, and an Academic Fellow of Middle Temple. Her research focuses in particular on issues relating to capacity, consent and end-of-life decision-making.
Who can Attend
This event is for members only.
Qualifying Session Details
Click here to see details of the QS Requirements and how to be credited with the QS for this session
Learning Outcomes:
After this session, students should be able to:
Recognise how the government's approach to the Covid-19 vaccine fits within the law's general stance on vaccination.
Identify different levels of de factor compulsion that could be implemented to persuade people to take the vaccine, and what some of the distinct legal and ethical issues of each are.
To understand whether the policy on permitting the vaccination of 12-15 year olds without parental consent is at odds with the general legal approach on consenting to medical treatment, and what ethical concerns it raises.
Links to the Professional Statement, wider workings of the Bar, administration of justice or a public interest matter
The QS will align with these elements of the Professional Statement:
QS Feedback
If you have any feedback on a QS you have attended or have any suggestions for future sessions, please contact the education department on education@middletemple.org.uk
Bookings and Cancellations
Members of the Inn can buy tickets online by clicking 'Add to Cart'.  Please note that you must log in to book (if you have not yet created a log-in please register first).  Alternatively you can buy tickets from the Treasury Office by calling 020 7427 4800.
Unless the event sells out earlier, booking will close the day before the event.  
Cancellations:
Where we have a waiting list we will offer your ticket to someone else, so please do cancel your ticket if you are no longer able to attend by emailing education@middletemple.org.uk
Click here to view our Bookings and Cancellation Policies
Data Protection & Photography
Please be aware that photography, audio and video recording may take place at our events. These may be used for promotional purposes by the Inn, including in printed publications, on our website, and on our social media accounts. If you do not wish to have your photograph taken or to have images of you used, please alert the EducationTeam at the start of the event. We are unable to guarantee that you will not be included in the background of photographs that are being taken. Contact: 020 7427 4800, education@middletemple.org.uk
All personal data that the Inn stores and processes is held in accordance with the Data Protection Act 2018 and the Inn's Data Protection Policy. You can ask the Inn to stop using your images at any time, or request to see the personal data that the Inn holds on you. For more information please visit the Data Protection page http://www.middletemple.org.uk/about-us/data-protection
Times and details for this event are subject to change. Please check this webpage for the most up to date information.