LGBTQ+ Forum Inaugural Dinner
Online registration has ended for this event
Location
Timings
17:45 - Doors Open
18:00 - Talk by Stonewall on Conversion Therapy
19:00 - Reception
19:45 - Dinner
This event is expected to end at approximately 22:30
Dress code
Black Tie preferred

Gender rules not applicable. Colourful accessories encouraged
Event Details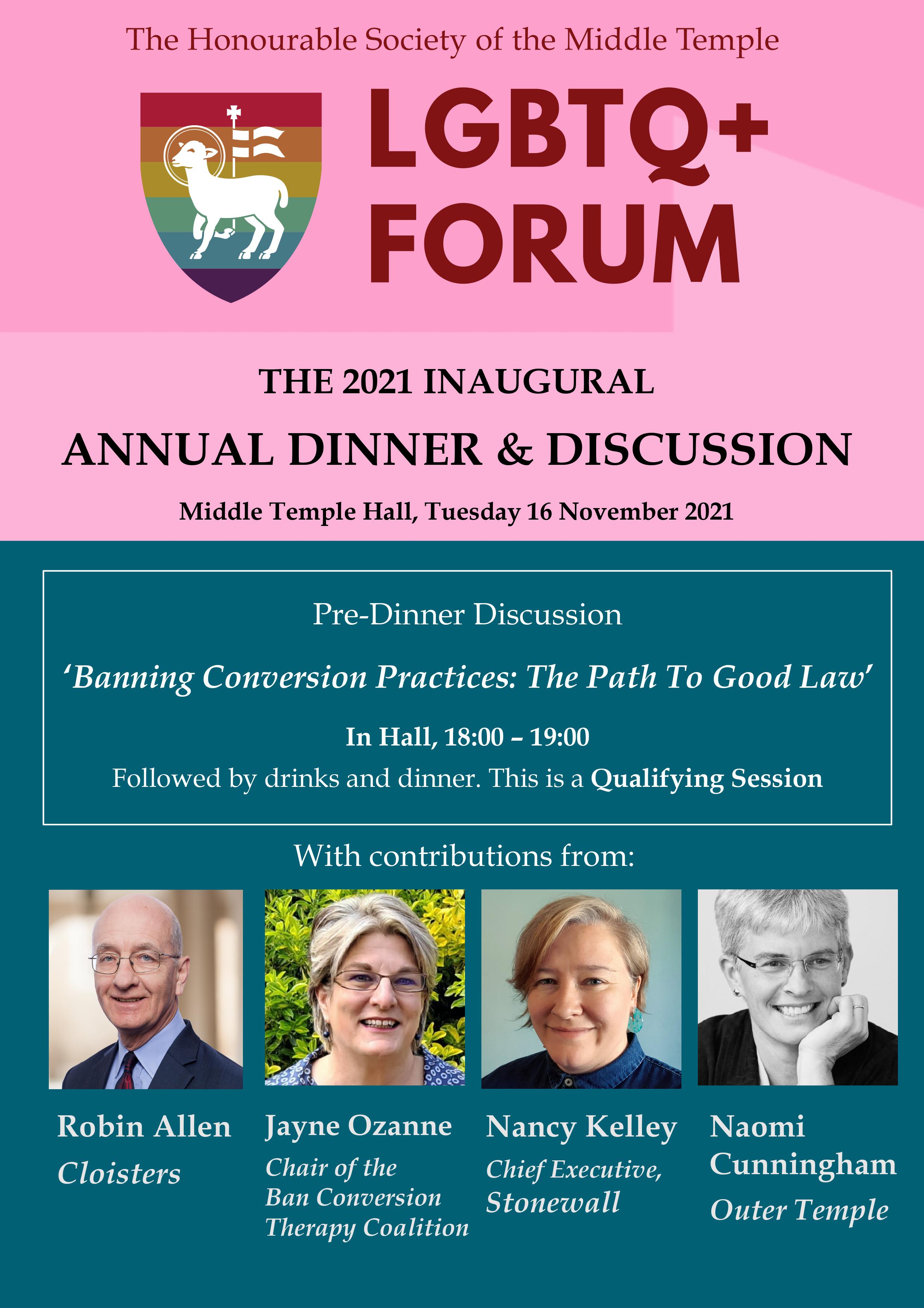 The Middle Temple LGBTQ+ Forum invites you to attend its inaugural Annual Dinner.
The evening will begin with a panel discussion on gay conversion therapy, with contributions from Robin Allen QC (Cloisters) and Kieran Aldred (Head of Policy, Stonewall). Guests will then be invited to a drinks reception in the Bench Apartments, followed by dinner in Hall with a short address from guest speaker Nancy Kelley (CEO of Stonewall).
This is a chance for the LGBTQ+ members, students and Benchers of the Middle Temple – and their Allies, guests, family and friends – to dine together, to learn, to celebrate and to get some glitter on their lapels.
Who can Attend
Student/Hall Members: Guests welcome
Benchers: Guests welcome
Members of the other Inn's of Court: Guest welcome
Dietary Requirements
If you (or your guests) have any dietary requirements please ensure that you provide this information when you book tickets.  If you did not do so, please inform the Inn no later than 12:00 two working days before the event. 
If you (or your guests) are unsure about anything on the evening please speak to the events staff on duty.
Non-alcoholic alternatives will be provided on request.
Further details on dietary requirements
Qualifying Session Details
Click here to see details of the QS Requirements and how to be credited with the QS for this session
Learning Outcomes:
After this session, students should be able to:
Explain the legal framework around the regulation (or lack of) of gay conversion therapy and how the law as it stands impacts individuals on the ground.
Describe the proposals for law reform;
And identify how members of the bar, like Robin Allen QC, can be a powerful voice for change.
Links to the Professional Statement, wider workings of the Bar, administration of justice or a public interest matter
The QS will align with these elements of the Professional Statement:
Click here to view the BSB's Professional Statement
QS Feedback
If you have any feedback on a QS you have attended or have any suggestions for future sessions, please contact the education department on education@middletemple.org.uk
Bookings and Cancellations
Members of the Inn can buy tickets online by clicking 'Add to Cart'.  Please note that you must log in to book (if you have not yet created a log-in please register first).  Alternatively you can buy tickets from the Treasury Office by calling 020 7427 4800. 
Non-members and their guests can book tickets for £80 via the Treasury Office on 020 7427 4800. 
Unless the event sells out earlier, booking will close at 12:00 two working days before the event.
Cancellations:
Where we have a waiting list we will offer your ticket to someone else, so please do cancel your ticket if you are no longer able to attend by emailing education@middletemple.org.uk
Data Protection & Photography
Please be aware that photography, audio and video recording may take place at our events. These may be used for promotional purposes by the Inn, including in printed publications, on our website, and on our social media accounts. If you do not wish to have your photograph taken or to have images of you used, please alert the Membership Team at the start of the event. We are unable to guarantee that you will not be included in the background of photographs that are being taken. Contact: 020 7427 6385, members@middletemple.org.uk
All personal data that the Inn stores and processes is held in accordance with the Data Protection Act 2018 and the Inn's Data Protection Policy. You can ask the Inn to stop using your images at any time, or request to see the personal data that the Inn holds on you. For more information please visit the Data Protection page  http://www.middletemple.org.uk/about-us/data-protection
Times and details for this event are subject to change. Please check this webpage for the most up to date information.