LGBTQ+ Forum | The Stark Reality of LGBTQ Law around the Globe | Gay Life and Law in 1980s Britain
Tuesday 23rd of February 2021 17:30
Online registration has ended for this event
Location
Online via Zoom (joining link will be circulated via email)
Timings
17:30 - 18:45
Please ensure that you have joined before the event is due to start.
Introduction by Master Sam King. Followed by the lecture and Q&A
This event is expected to end at approximately 18:45.
Event Details
This event is open to Middle Temple Members and their guests as well as members of other Inns of Court, though guests are restricted to members only. Attendance is free but booking is required (detail below).
Outline:
The first talk will aim to give attendees knowledge of legal issues facing the LGBTQ+ community outside of England and Wales. The second talk will aim to use the recent Channel 4 series It's A Sin as a springboard to looking at the historico-legal development of LGBTQ legislation and policy in England and Wales in the 1980s and the impact of those events today.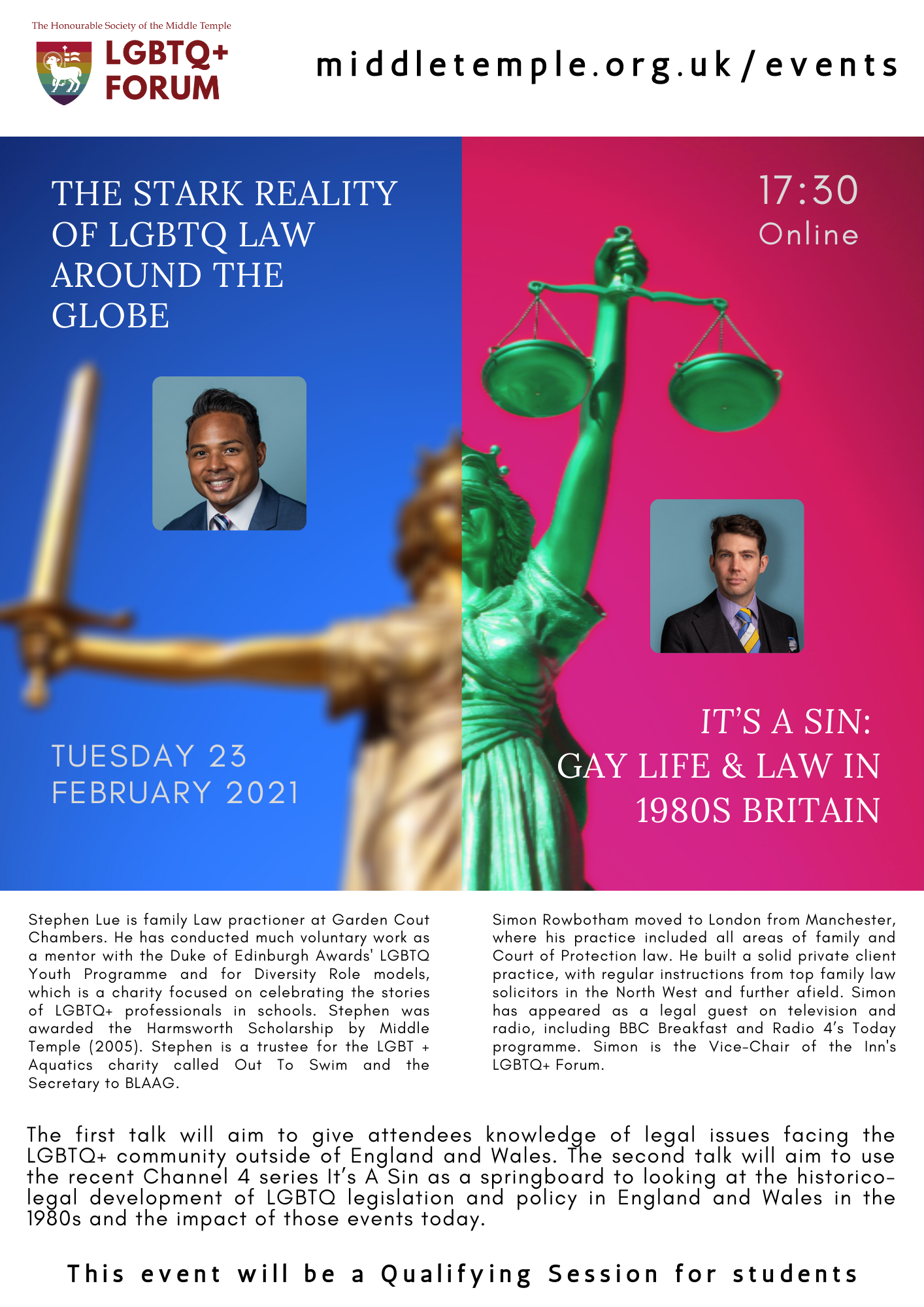 The Middle Temple LGBTQ+ Forum can be reached at lgbtq@middletemple.org.uk if you should have any questions.
Accessing the remote Event:
This remote event will take place online. A link will be sent by email between 12-24 hours before the scheduled start time.
It is preferable to join the event on a laptop, but if that's not possible then use your phone/tablet.
Guests
Student members: One guest maximum
Hall members and Benchers: Two guests maximum
Qualifying Session Details
Click here to see details of the QS Requirements and how to be credited with the QS for this session
Learning Outcomes:
The talks will help the attendees acquire knowledge concerning both domestic and international LGBTQ+ law. They will be able to identify areas of legislation and reform that have worked and areas that require further reform.
Links to the Professional Statement, wider workings of the Bar, administration of justice or a public interest matter
Pursuant to the Professional Statement, the event is aligned with para 2.3: to be aware and active in the pursuit of equality and respect for diversity, not tolerating unlawful discrimination, in themselves or others.
Bookings and Cancellations
Members of the Inn can book online. 
Members of other Inns can email members@middletemple.org.uk to book.
Where we have a waiting list we will be able to offer your ticket to someone else, so please do let us know if you are no longer planning to attend.
Students - to cancel a ticket please email education@middletemple.org.uk
Hall members, Benchers and Members of other Inns - to cancel a ticket please email members@middletemple.org.uk 
Data Protection & Photography
Please be aware that photography, audio and video recording may take place at our events. These may be used for promotional purposes by the Inn, including in printed publications, on our website, and on our social media accounts. If you do not wish to have your photograph taken or to have images of you used, please alert the Membership Team at the start of the event. We are unable to guarantee that you will not be included in the background of photographs that are being taken. Contact: 020 7427 6385, members@middletemple.org.uk
All personal data that the Inn stores and processes is held in accordance with the Data Protection Act 2018 and the Inn's Data Protection Policy. You can ask the Inn to stop using your images at any time, or request to see the personal data that the Inn holds on you. For more information please visit the Data Protection page  http://www.middletemple.org.uk/about-us/data-protection
Times and details for this event are subject to change. Please check this webpage for the most up to date information.