Hamlyn Lecture: Robin Allen QC | 5 November 2018
Monday 5th of November 2018 18:00
This event is a qualifying session and is worth 1 point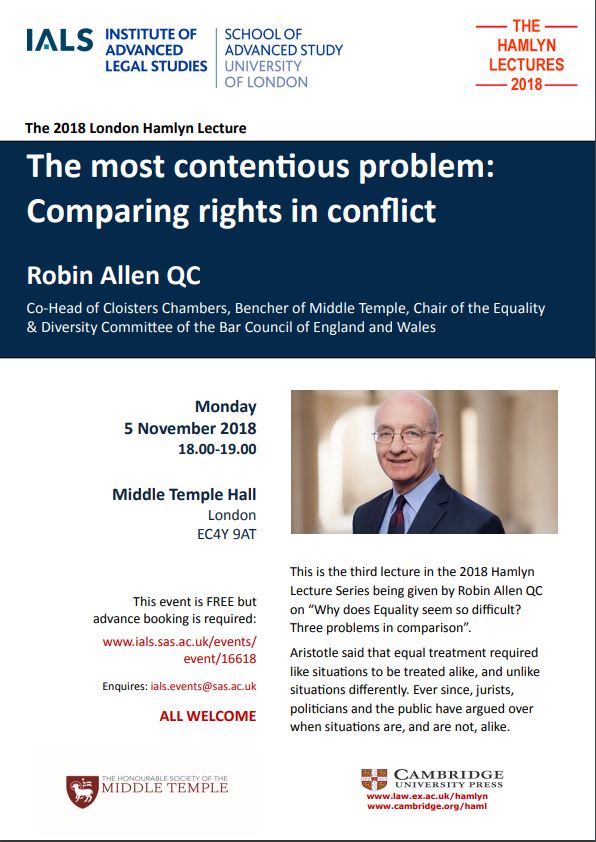 18:00-19:00
Where: 
Middle Temple Hall
Dress Code:
Lounge Suit (No Gowns for Members)
Event Details: 
This is the third lecture in the 2018 Hamlyn Lecture Series being given by Robin Allen QC on "Why does Equality seem so difficult? Three problems in comparison".
Aristotle said that equal treatment required like situations to be treated alike, and unlike situations differently. Ever since, jurists, politicians and the public have argued over when situations are, and are not, alike.
This event is FREE but advance booking is required:
www.ials.sas.ac.uk/events/event/16618
Enquires: ials.events@sas.ac.uk
The event will count as one qualifying session. Students requiring the QS must ensure that they sign in on arrival.
Guests:
All welcome!
Qualifying Session Details:
For Middle Temple students and transferring lawyers - this event counts as one Qualifying Session.  As the booking for this event is being handled externally, you must sign in on arrival in order to be awarded the QS.
Data Protection & Photography at this Event:
Please be aware that photography, audio and video recording may take place at our events. These may be used for promotional purposes by the Inn, including in printed publications, on our website, and on our social media accounts. If you do not wish to have your photograph taken or to have images of you used, please alert the Membership Team at the start of the event. We are unable to guarantee that you will not be included in the background of photographs that are being taken. Contact: 020 7427 6385, members@middletemple.org.uk.
All personal data that the Inn stores and processes is held in accordance with the Data Protection Act 2018 and the Inn's Data Protection Policy. You can ask the Inn to stop using your images at any time, or request to see the personal data that the Inn holds on you. For more information please visit the Data Protection page.
Booking Tickets:
This event is FREE but advance booking is required:
www.ials.sas.ac.uk/events/event/16618
Enquires: ials.events@sas.ac.uk
Cancellations:
Contact: ials.events@sas.ac.uk