To celebrate Black History Month 2020, we explore the archival legacies and sketch the stories of four early and pioneering Black members of the Middle Temple. These short narratives offer a snapshot of the experiences, contributions and lives at the Inn of four individuals who came from diverse backgrounds across the globe, and whose paths led them to remarkable achievements in sundry walks of life.

Edward Cragg Haynes, Michel Maxwell Philip, Thomas Morris Chester and Stella Jane Thomas
In early 1843, an article appeared in a number of newspapers around England, entitled A Hint to Brother Jonathan, reporting that 'a young man of colour' had been admitted to the Middle Temple and was 'keeping his terms' by dining in Hall. The article declared that it was 'a proud example for our brethren on the other side of the Atlantic to see this young man dining in the ancient hall', and expressed the hope that 'this instance of the manner in which a man of colour is treated in the father-land' would set an example to those in the United States.
It is believed that this young man was Edward Cragg Haynes, of the island of Barbados, who was admitted to the Inn on 19 November 1842. Barbados had first been 'claimed' by the English in 1625, during the reign of King James I, and the first English settlers arrived in 1627. Before long much of the island was given over to tobacco, cotton and sugar plantations (displacing and eradicating much of the indigenous community). These plantations relied on the forced labour of many thousands of enslaved men and women transported from West Africa.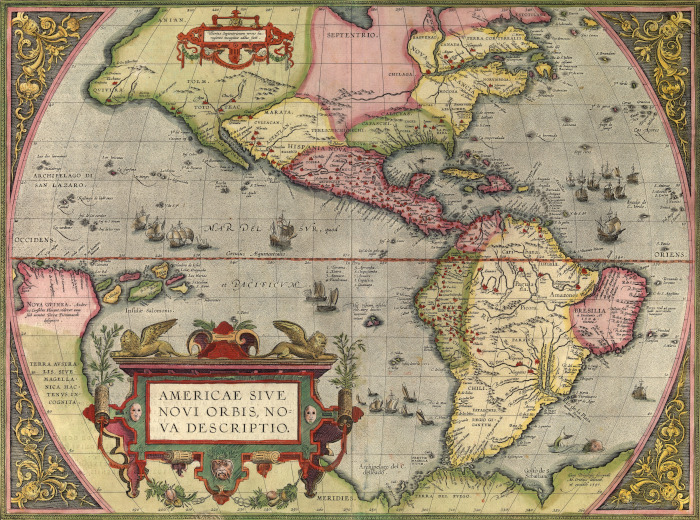 Ortelius' map of The New World, from 'Theatrum orbis terrarum' (Theatre of the World), 1603 (Credit: Middle Temple Library)
At the time of Edward Cragg Haynes' birth in 1821, the Barbadian economy was still dependent on slave labour. Research indicates that both of Edward's parents, the wealthy merchant William Cragg Haynes and his wife Sarah Catherine Blackman, were categorised as 'Free Coloured Persons', and descended both from enslaved men and women, and from European colonists. Free Coloured Persons were British subjects, but still faced significant discrimination, both official and otherwise, despite in many cases possessing great wealth (in some cases, including Edward's father and grandfather, owning slaves themselves).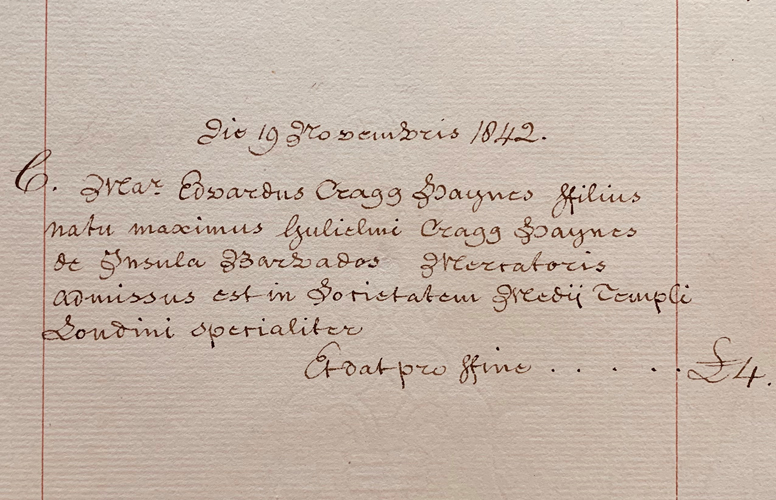 Admission of Edward Cragg Haynes to the Middle Temple, 19 November 1842 (MT/3/AHC/8)
Soon after crossing the Atlantic and being admitted as a student at the Inn, Haynes was dining regularly in Hall, one of the requirements for Call to the Bar in those days (a precursor to the modern Qualifying Sessions). His name first appears in the Buttery Books, records of members and Benchers dining in the Inn, in Grand Week, Michaelmas 1842.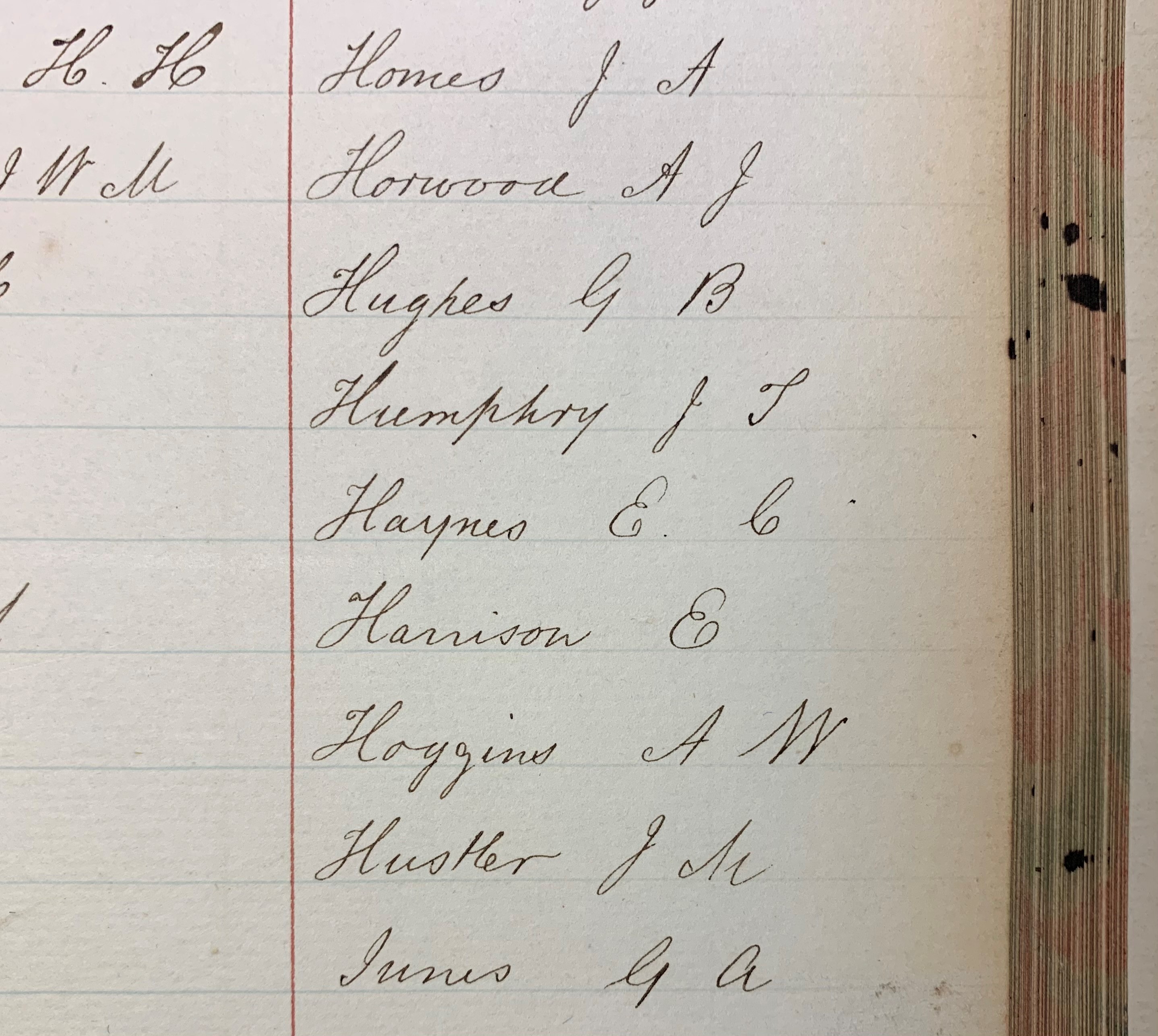 First record of E.C. Haynes dining in Hall, Michaelmas 1842, Buttery Book 1836-1845 (MT/7/BUB/6)
Haynes' future did not, however, lie in the law. After dining in Hall on a regular basis throughout 1843, his name ceases to appear in the Buttery Books from early 1844. In June of that year, he matriculated at Trinity College, Cambridge (whose Hall was, coincidentally, modelled on that of the Middle Temple), where he would study Divinity, graduating in 1849, possibly as Cambridge's first Black graduate. He went into the priesthood, being made a Deacon in 1849 at Southwark Cathedral, and was later ordained by Samuel Wilberforce, Bishop of Oxford and son of William Wilberforce, the notable abolitionist. He moved to Swinefleet in Yorkshire to serve as a curate in 1851, becoming the vicar of that Parish in 1872, and dying there in 1883.

Admission of Edward Cragg Haynes to Trinity College, Cambridge, 1844 (by kind permission of the Master and Fellows of Trinity College, Cambridge)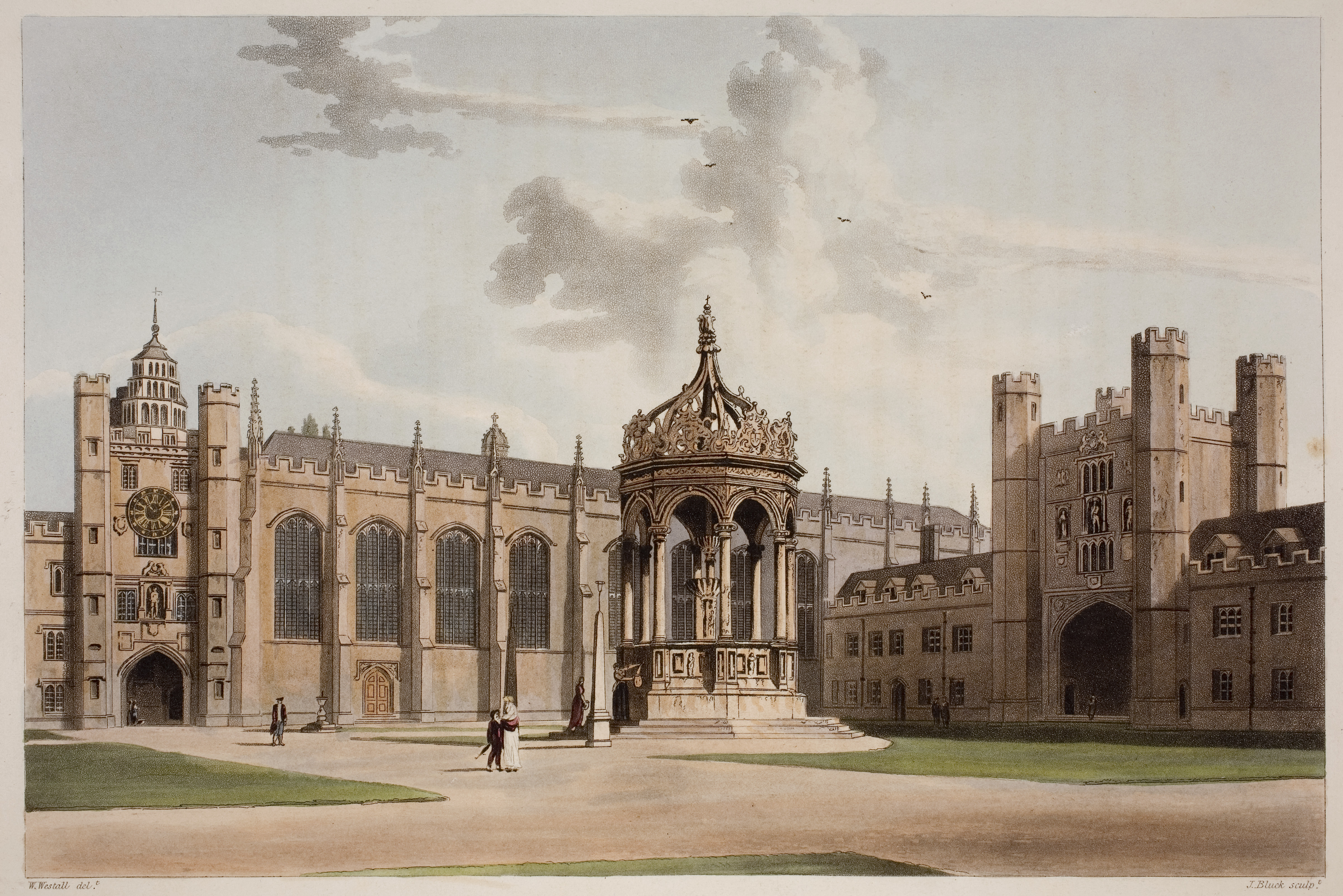 Great Court, Trinity College, Cambridge (by kind permission of the Master and Fellows of Trinity College, Cambridge)
The island of Trinidad, like Barbados, was colonised by Europeans – a process of invasion and settlement which, once again, devastated the indigenous population. Initially settled in the early 16th century by the Spanish, the British seized the island by force in 1797, during the course of the French Revolutionary Wars. At this point in its history, over 50% of the island's population was made up of slaves transported from Africa, who worked and cultivated over 450 plantations and estates.  
Michel Maxwell Philip was born on the island in 1829, four years before the passage of the Slavery Abolition Act 1833, which outlawed the purchase or ownership of slaves across the British Empire. His parentage remains a matter of debate, but one source indicates that he was born out of wedlock, the son of a white plantation owner and an African-American woman. Educated in Trinidad and Scotland, he was admitted to the Middle Temple in 1850, and the archival legacy of his time at the Inn illuminate some of the challenges faced at that time by students from abroad.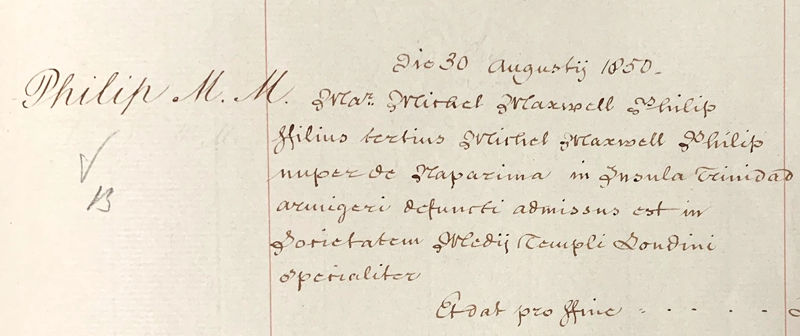 Admission of Michel Maxwell Philip to the Middle Temple, 30 August 1850
In late 1853, Philip submitted a petition to the Inn's Parliament requesting that he be allowed to be Called to the Bar, despite having been prevented by ill-health from keeping all of his terms and attending certain lectures. He drew attention to the damage that the 'rigorous and trying' London climate was doing to his health, stating that 'the Trinidadian almost always finds himself an entire stranger in a country so distant from his own and frequently his very existence is menaced by the ungenialness of a climate that is so different from the pure and sunshiny atmosphere of the Tropics'.
Petition of Michel Maxwell Philip to be Called to the Bar, 22 November 1853 (MT/1/MPA/14)
While his situation was unusual at the time – his petition begs the Benchers to take into account the 'peculiarity of his case' - this difficulty would become common in subsequent decades as increasing numbers of students from warmer, less polluted climates enrolled to study at the Inn. As Philip's doctor puts it in a later note:  'I consider the atmosphere of London deleterious to his peculiar constitution and that it is of the utmost importance that he should reside out of it'.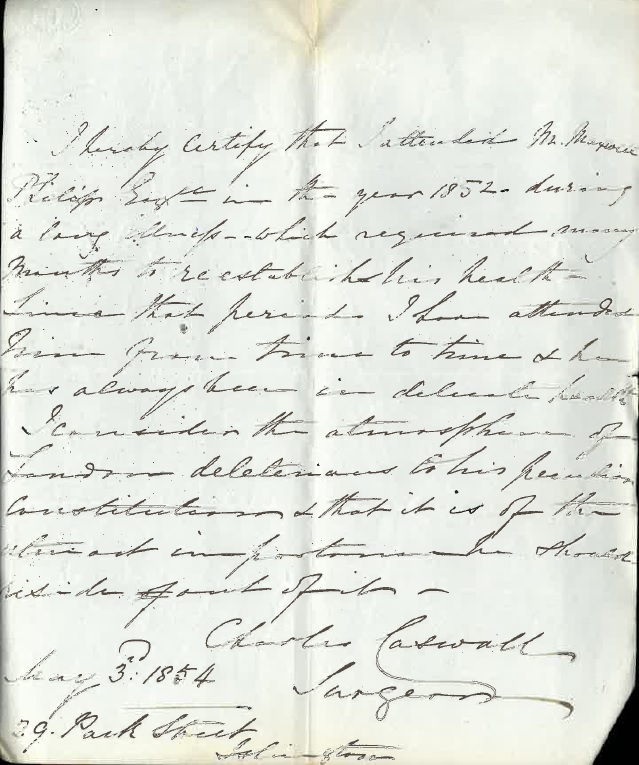 Doctor's note supporting Michel Maxwell Philip's Petition to be Called to the Bar, 3 May 1854 (MT/1/PPE)
After much back and forth with the Council of Legal Education, Philip was Called to the Bar (his case perhaps setting a precedent for many others in the decades to come), and returned to Trinidad, where he carved out a successful career in politics and law on the island. In 1867 he was elected the first non-white Mayor of the island's capital, Port of Spain, and was later appointed Solicitor-General of Trinidad by the island's British Governor, an office he held until his death in 1888.
Thomas Morris Chester was born in Harrisburg, Pennsylvania in 1834. His parents, George and Jane Marie Chester (the latter born into slavery in Virginia), were involved in the abolitionist movement, their restaurant in Harrisburg serving as a gathering place for anti-slavery campaigners. After his schooling at the Thetford Academy, Thomas spent time in Liberia, a colony and later independent republic, which developed in the first half of the 19th Century in part as a settlement for free people of colour from the United States. He was admitted to practice as a lawyer there in 1853, and later returned to the US at the outbreak of the American Civil War in 1861. He worked as a recruiter of Black troops to the Union army and later made his way to the front line as a war correspondent.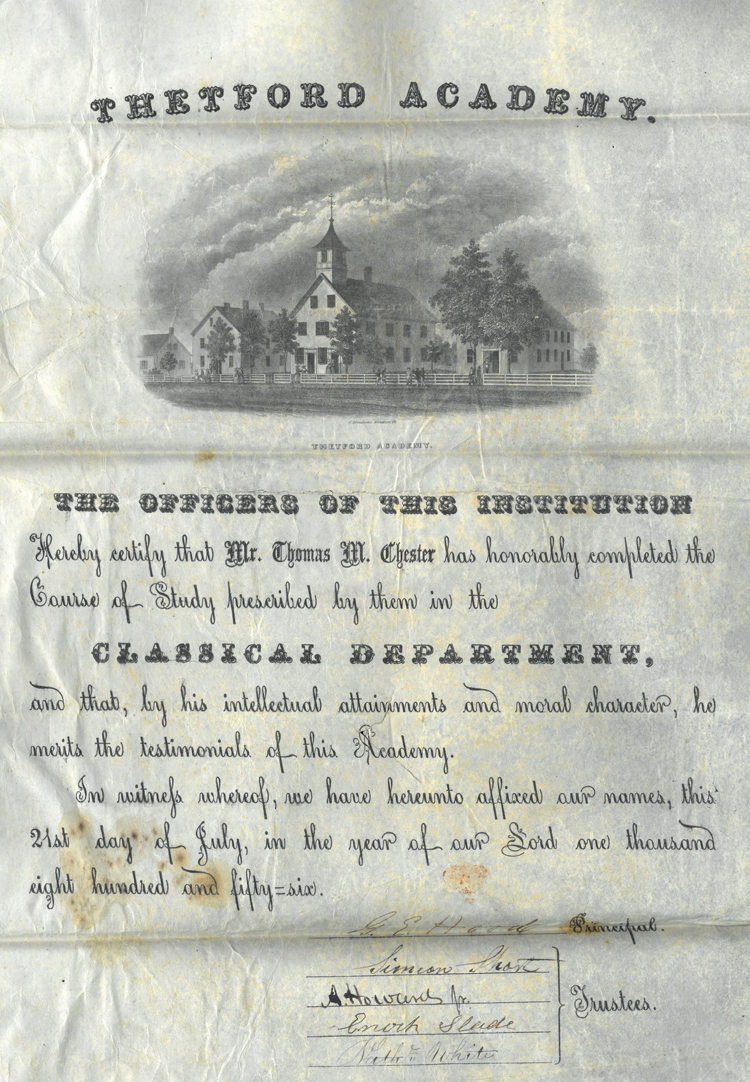 Certificate from Thetford Academy of Thomas Morris Chester's studies, 21 July 1856 (MT/21/1/104/1/91)
Chester travelled to Europe in 1865, spending time at the court of Tsar Alexander II in St Petersburg as a representative of the Liberian government, and meeting Alexandre Dumas in Paris. He arrived in London 1867 and was admitted as a student at the Middle Temple, wishing, as he put it, 'to prepare himself for further usefulness in the interests of African Civilisation'. He pursued his studies diligently, taking chambers in the Inn, eating his dinners in Hall and enrolling in private classes to accompany the legal curriculum.
He maintained his links with Liberia, twice petitioning Parliament to be Called to the Bar early in order to return there on urgent business for President James Spriggs Payne. One such Petition was accompanied by a letter from Liberia's Consul General in London stating that his return was 'imperatively demanded both in the interests of the Country and in accordance with the wishes of His Excellency the President of Liberia'.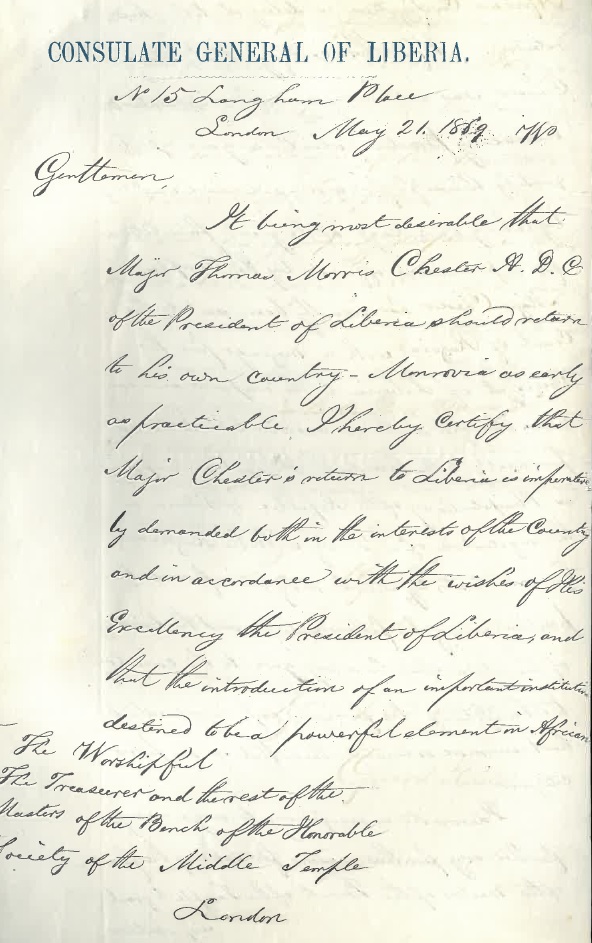 Letter from the Liberian Consul General in support of T.M. Chester's Petition to be Called early, 21 May 1869 (MT/1/PPA)
In April 1869, Chester was issued with an order from the Inn to vacate his chambers. Earlier in the year, a complaint had been made by a neighbour of Chester's that women of an unsavoury nature had been visiting him. Writing to the Treasurer, he denied these allegations wholeheartedly, pointing to his respectable associations and the fact that for much of the time in question he had been 'enjoying the hospitalities of some of the best representatives of European nobility'. He ascribed the allegations to 'personal spite', and concluded that 'identified with a race whose whole history has been one of suffering and injustice, I feel that however sensibly this ordeal may affect me, a consciousness of my innocence will enable me to greet it with becoming fortitude'.

Extract from a letter from T.M. Chester to the Treasurer, in response to an order to vacate chambers, 1869 (MT/1/PPA)
No decision on the matter is recorded in the Minutes of Parliament, though Chester did vacate his chambers in June. He was, however, Called to the Bar the following year, becoming the first African American to practice at the English Bar and winning a case at the Old Bailey. Returning to the US in 1871, he set up a legal practice and involved himself in local educational and industrial affairs. He died in 1892, after a truly remarkable life.
Nigeria had been brought under British colonial rule towards the end of the nineteenth century, after more than a century of increasing European presence, interference and missionary activity. Stella Jane Thomas was born in the colony's capital city, Lagos, in 1906, the daughter of a successful businessman of the Yoruba people, one of the most significant ethnic groups in western Africa.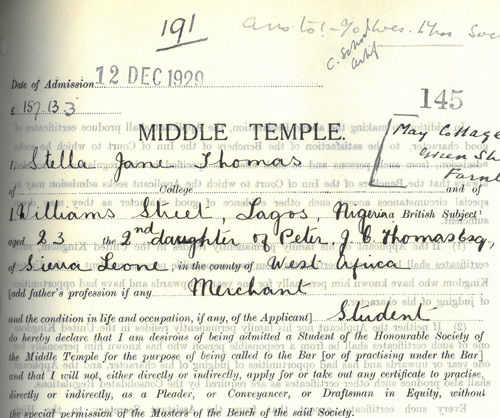 Admission of Stella Jane Thomas to the Middle Temple, 12 December 1929 (MT/3/AHC/33)
After a secondary education in Sierra Leone (also a British colony), she travelled to the United Kingdom, matriculating at the University of Oxford and applying to join the Middle Temple in 1929. Her application was accompanied by a form requesting a dispensation from the standard examination, pointing out that she had passed the Cambridge School Certificate in July of that year, encompassing a range of subjects. This application was approved and she was admitted on 12 December 1929, possibly the Inn's first Black female student.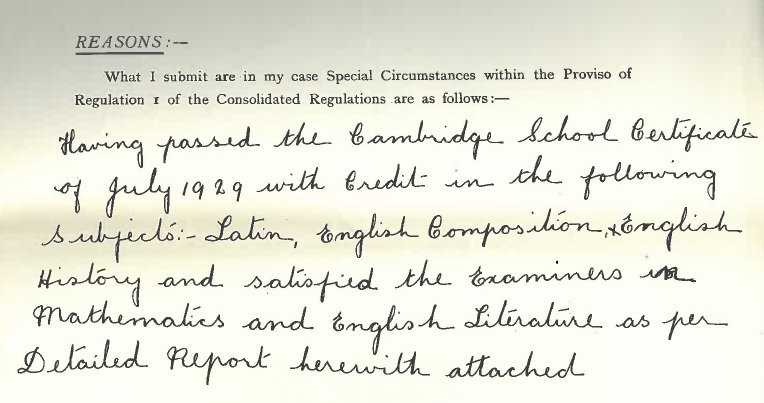 Extract from Stella Thomas' 'Application For Admission with Dispensation of Educational Qualifications', 1929 (MT/3/CWD)
Active as a student in London, Thomas was a founding member of the League of Coloured Peoples, a civil-rights group formed to defend and further the interests and welfare of ethnic minority groups in the United Kingdom. Later, attending a lecture by Margery Pelham, a historian of colonialism in Africa, Stella spoke powerfully against the controversial colonial policies and approach of Lord Frederick Lugard, formerly Governor-General of Nigeria, who was himself in the audience that evening.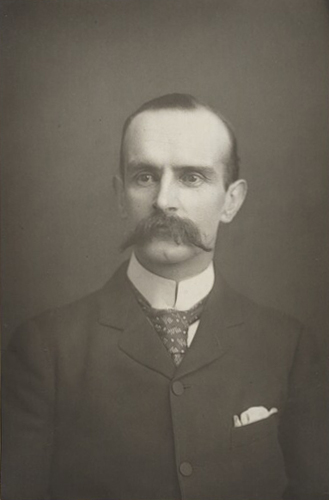 Frederick Lugard, 1st Baron Lugard, 1894 © National Portrait Gallery, London
Thomas' elder brother, Stephen, was also a member of the Inn, and both completed their studies in 1933 – Stella becoming the first West African woman Called to the Bar. Another brother was Flight Lieutenant Emanuel Peter Thomas, the first Black African to be commissioned as an officer in the Royal Air Force. After a brief spell practicing at the English Bar, Stella returned to Africa. After a period at the Bar of Sierra Leone, she established a successful legal practice in Lagos and went on to be appointed to the Magistrate Court of Ikeja province as West Africa's first female Magistrate. She served as a Magistrate until her retirement in 1971.
These brief sketches of the lives and careers of four pioneering individuals barely scratch the surface of the rich and diverse wealth of Black History to be found within the Inn's collections. Through future research and engagement, more can and will be unlocked and illuminated, enabling a deeper and more extensive understanding of these intertwined and vitally important personal, social and institutional histories.
* * *
Every member of the Middle Temple is a part of the Inn's history, and has a story to be told. We are inviting members to share with us their own stories of their paths to the Bar and beyond: the highs and the lows, the challenges met, the obstacles overcome. Each story will be preserved in the Inn's Archive in order to inform and inspire future generations of Middle Templars. To find out more, click here.
* * *
Acknowledgements:
African Stories in Hull and East Yorkshire
Trinity College, Cambridge
Joanne Haynes, Writer and Researcher