For a period from the seventeenth to the early nineteenth century, the Inns of Court were among the most popular places in London for abandoning children who, for whatever reason, could not be cared for or were simply unwanted. Over the years, hundreds of infants were left around the Middle Temple. As an extra-parochial area (falling beyond the boundaries of any parish, and therefore excluded from the usual poor relief), the responsibility to take care of these children fell squarely (and literally) on the Inn's doorstep.
While not keen on this practice, and taking various steps to prevent it, the Inn took its responsibilities for these children seriously, providing for their care and often setting them up well for adult life. This month, we look at the archival records which tell the story of the Temple foundlings - who they were, where they came from and how the Inn provided for them.
A 'Register of Exposed Children' has survived in the archive, which records details of all those children left in the Middle Temple between 1701 and 1850. They were usually named by the Inn, and always given the surname 'Temple'. The date and location of their abandonment was recorded, as well as the date of their baptism in the Temple Church, and also details of the Inn's further provision for their welfare and future. Sadly, not many of these infants survived long enough to have much of a future - one of the more poignant entries is for a William Temple, found in March 1801: 'The child appeared when found to be almost starved to which its Death was attributed'. Some stories have a happy twist, however - one infant's entry from 1783 records that it was 'Claimed by the Mother immediately after it had been sent to the Nurse'.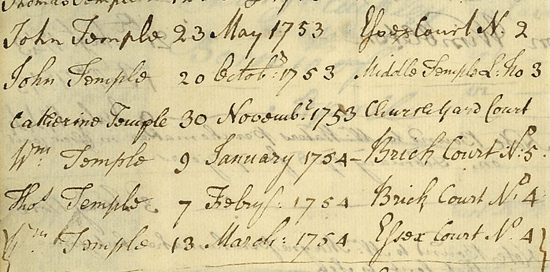 Excerpt from the Register of Exposed Children, 1701-1850 (MT.19/CHI)
Why were the foundlings abandoned? There must have been myriad reasons, but the poverty and desperation rife in eighteenth and nineteenth century London, coupled with a lack of significant support or welfare provision must have been prime amongst these, as one record indicates. A petition, dated 17 December 1718 and addressed to the Inn, was found with a child exposed in Essex Court, signed by 'the unfortunate father of this more unfortunate infant'. This petition states that the father is 'well educated in the law but thro' a series of misfortunes is rendered incapable to maintain this infant, and so obliged to expose him after this indecent manner (to your petitioner's unspeakable griefe and concern).'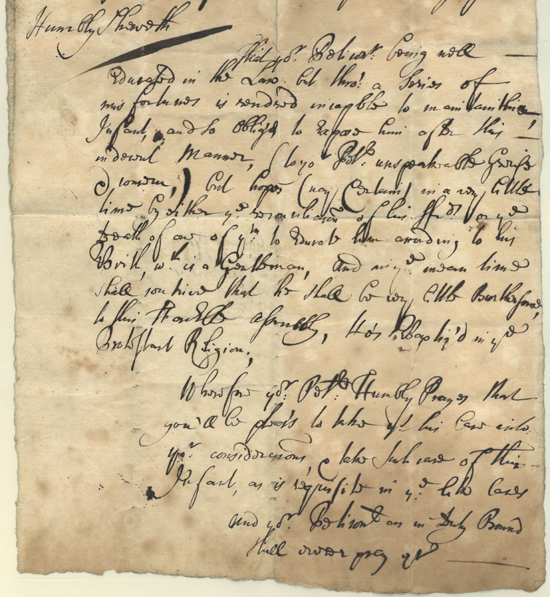 Petition of the father of an infant exposed in Essex Court, 17 December 1718 (MT.18/FOU/2)
The Inn did attempt to prevent this burdensome practice. Rewards were offered for information concerning certain children - a poster appeared in March 1801, offering a £20 reward for information regarding a boy 'supposed to be about Eighteen Months old, having a Burn or Scald on the Left Leg, dressed in a White Dimity Cloak', found in Essex Court. Such assistance was evidently valued - in 1777, Parliament ordered that a guinea be paid to one Mrs Gabrill 'as an acknowledgement for her care & trouble in voluntarily bringing to light the parents of a child that was deserted in the passage between the top of Brick Court and Essex Court'.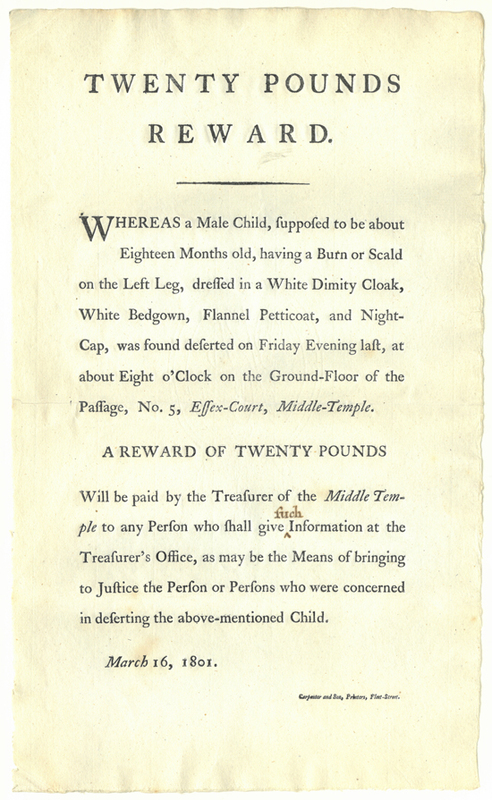 Notice offering rewards relating to certain exposed children, 16 March 1801 (MT.18/FOU/14)
The Inn's night watchmen, too, were encouraged to be more vigilant than they evidently were. A set of instructions drawn up and issued in February 1733/34 by Charles Worsley, the Treasurer of the day, commanded the watchmen to 'have a Strict Eye upon all Staircases & passages in their walks and take particular Care that not Children are drop'd'. Violation of this or any other of the many instructions carried a penalty of immediate suspension. These orders were clearly effective: while the next two months saw three more children found exposed in the Inn, after this none appear in the register until 1737.

Excerpt from Instructions for the Inn's several watchmen by Charles Worsley, Treasurer (MT.8/SMP/53)
Nonetheless, the Inn was prepared to shoulder the burden if no parents could be identified or tracked down. As an Inn of Court was no place for families - Parliament devoted great energy to dislodging the wives and children of barristers and other tenants - it became customary to send these infants out to be fostered by 'nurses' across London, who provided a range of services. At any one time there were numerous such nurses caring for Temple foundlings, as widespread as Wimbledon, Putney, Ealing and Whitefriars, and several of the bills they sent to the Inn have survived. On 2 October 1700, one Elianor Chubs submitted a bill for £5 5s for keeping and schooling three children for a quarter, as well as keeping 'Mary' 9 weeks, ending on 29 August 'when shee dyed'.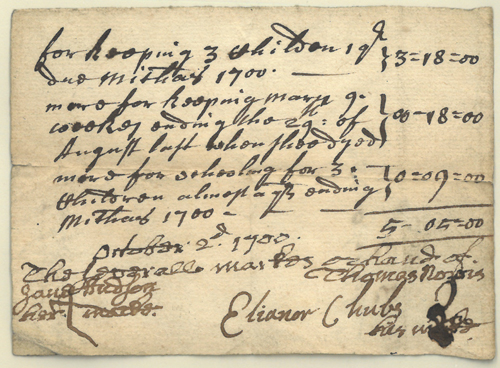 Account for money owed to Elianor Chubs [Eleanor Chubb], 2 October 1700 (MT.18/FOU/1)
The children's educational needs (as far as those went for illegitimate foundlings in the 18th century) were also catered for - one bill from Nurse Akers, for example, requests payment for 'pens pensils ink' and two books for the 'scolling' of George Temple. Clothing was provided - Nurse Hall, charged with the 'Keeping of little Richard Temple an infant' billed the Inn in 1724 for 'a paire of stockings' and 'a flannen wastcoate' - though when she requested 13 shillings for his winter greatcoat, the Treasurer John Raphson drew the line. The health of the foundlings was also a drain on the Inn's coffers - Nurse Hall's bill for young Richard's care in Michaelmas 1723 included 8 pence for 'worme seed & treakle being ill of the worme Feavour', and a shilling for 'a Pint of Sack to make him Sack Whaye in his illness & feavour'. Sack-whey was a concoction of fortified wine such as sherry, known at the time as sack, with weak milk and sugar - something of a cure-all at the time.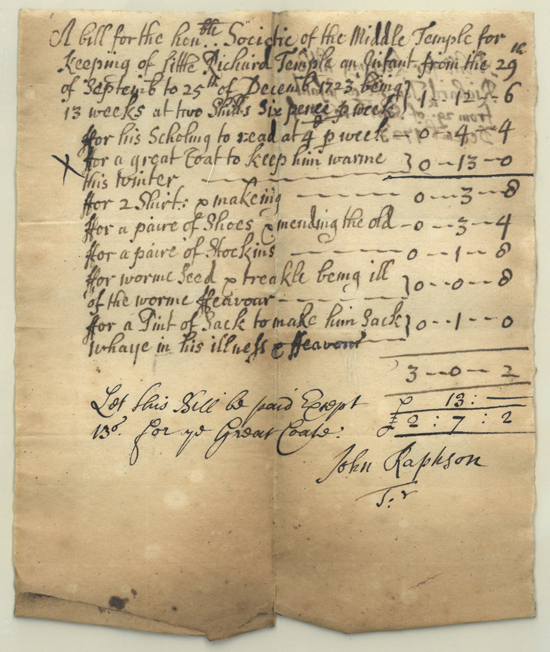 Bill from Nurse Hall for keeping 'little Richard Temple', 1724 (MT.2/TUT/55)
Once they had received a rudimentary education, and if they had survived a childhood of worm fever and sack-whey, the foundlings would be apprenticed out to a tradesman or tradeswoman, at the Inn's expense. This was generous - Thomas Coram's Foundling Hospital, up the road in Bloomsbury, tended more to send its foundlings off to be domestic servants, and such generosity may have contributed to the Inn's popularity as a depository for unwanted infants. The Temple foundlings were apprenticed to masons, furriers, perukemakers (wig-makers - an important local trade), butchers, embroiderers and mantua-makers.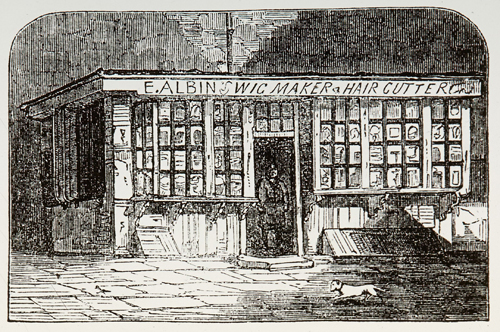 Engraving of the shop of E. Albin, Wig Maker & Hair Cutter, in the Temple (MT.19/SLI/2)
In 1733, George Temple was apprenticed to Henry Wakeford, a whitesmith - a smith who made items and utensils from tin and other light metals - in consideration of £10 paid by the Middle Temple. Wakeford was required, at the end of the apprenticeship, to provide George with a 'new suit of Cloaths compleat that is to say a Coat Wastcoat breeches stockings shoes Hat four Shirts and Four neckcloths'. This all depended on George keeping his side of the bargain - quite apart from obeying Wakeford's every order and whim, George could not 'commit fornication nor contract Matrimony', 'play at Cards, Dice, Tables or any other unlawfull Games' without his Master's permission, nor 'haunt Taverns or Play-houses'.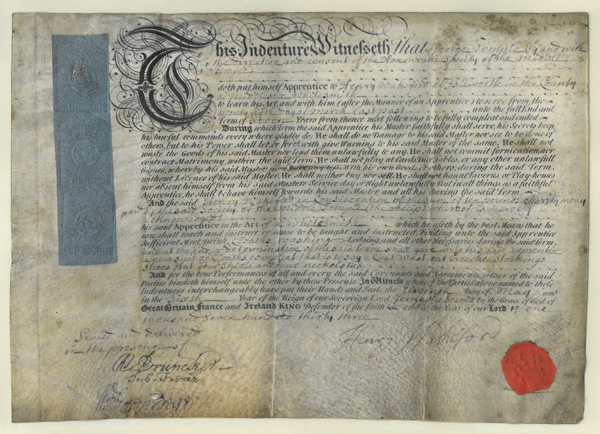 Indenture of apprenticeship between George Temple and Henry Wakeford, Whitesmith, 11 May 1733 (MT.18/FOU/7)
One foundling did particularly well out of his connection with the Inn. The Under Treasurer from 1711 to 1717, John Malet, had taken the young Richard Temple into his own care after he was found in the Hall corridor. When Richard came of age in the 1720s, he must have showed some academic promise, as Malet petitioned Parliament for the funds for his schooling to continue three years longer. In a letter to Master Jauncey, Malet complained that the Treasurer, Master Welbore, had denied this request with the retort that the Inn 'never intended to breed such children Gentlemen & he must go to some periwig maker or some such trade'.
He also wrote in a similar vein to Sir Phillip Yorke, later Lord Chancellor and 1st Earl of Hardwicke, 'who I hope will Stand the poor Infants friend'. Whether such education was funded is unknown, but two years later, one 'Richard Malet', adopted son of John Malet, was admitted to the Middle Temple.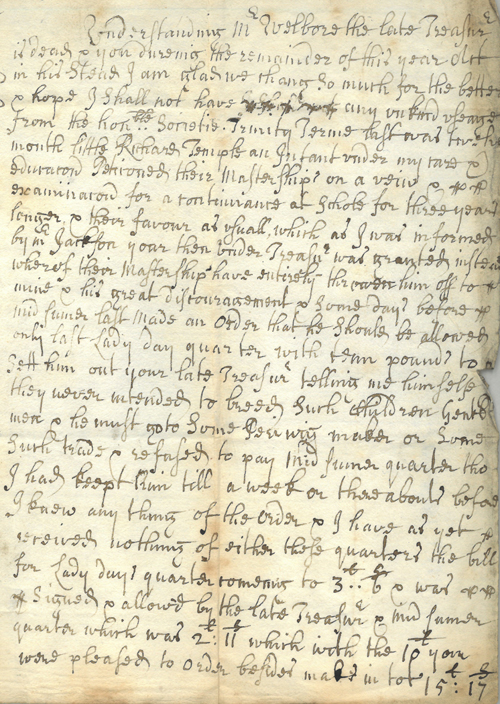 Letter from John Malet to Master Jauncey concerning Richard Temple, 1727 (MT.18/FOU/6)

Admission of Richard Malet, formerly Temple, Admissions to House and Chambers, 24 June 1729 (MT.3/AHC/2)
The practice of abandoning children in the Inn, for various socio-economic reasons and changes to the Poor Laws, began to peter out in the late eighteenth century, although the last child recorded in the register was left in 1845. The four month old Mary Temple was found on a landing at 1, Middle Temple Lane, and went to live with Mr Gingell, the Chief Porter. The foundlings continue to fascinate, and this rich seam of history continues to be mined - most recently, for a Lent Reading and for a Masters' dissertation. How many people named Temple are out there today whose family histories begin on a doorstep somewhere in the Inn?