In a departure from the usual pattern, this month we look at material held in the Middle Temple Archive with provenance beyond the Inn as an institution, through gift, donation or serendipitous accident over the centuries. Some of these unexpected items and collections are closely connected to the Inn and its activities, some are impenetrably extraneous, but they share a unique novelty and curiosity.
The personal papers of certain prominent Middle Templars have found their way into the archive. One example is that of Sir Alexander Cockburn, a successful barrister and judge who rose to be Lord Chief Justice, and who was also a noted (and notorious) figure on the mid-nineteenth century social scene. While not a complete collection, the Inn holds his Fee Books as a barrister, which recorded cases he worked and the sums received for each - a useful source for those seeking to understand the professional activities of nineteenth century barristers, as well as for biographers of Cockburn himself.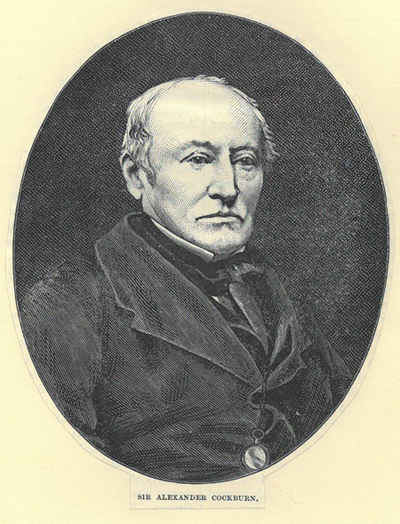 Portrait engraving of Sir Alexander Cockburn, 19 th Century (MT.19/ILL)
These papers also include something a little less quotidian - the manuscript of a romantic novel written by Cockburn himself in his twenties, in his own hand. It tells the story of Auguste de Morbiere, a young Frenchman living in the 1770s, and has a highly convoluted plot involving ghosts, dungeons, love affairs, convents, duelling and general intrigue. Analysing the text in the early 2000s, the writer Sian Busby commented that 'the novel does not have a great deal of literary merit, but it is written with a certain degree of verve'.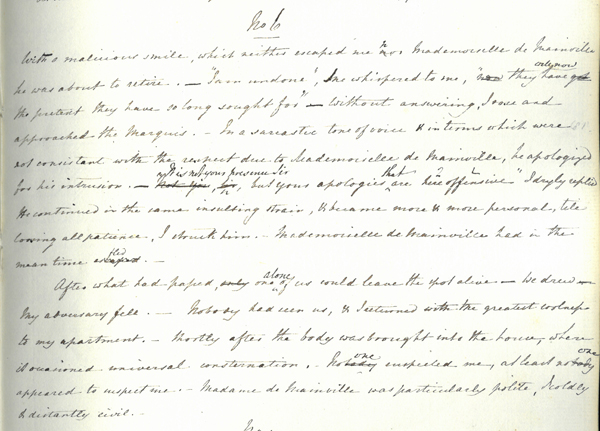 Chapter from Cockburn's novel, describing a duel with an insulting and sarcastic Marquis (GD/4/6)
The papers of Sir Henry Honywood Curtis-Bennett KC (1879-1936), a Bencher from 1926 to his death, were donated by a relative in the 1980s. In keeping with most collections of personal papers, these include correspondence, press cuttings relating to Curtis-Bennett's career, and family photographs depicting an idyllic life in the English countryside. In addition to these items the collection also features a beautifully decorated paper fan from Kettner's restaurant, dated 16 July 1925. Kettner's, a popular establishment in Soho, had been opened in 1867 by Auguste Kettner, chef to the French Emperor Napoleon III, and was a favourite haunt of Curtis-Bennett's fellow Bencher, Albert Edward, Prince of Wales.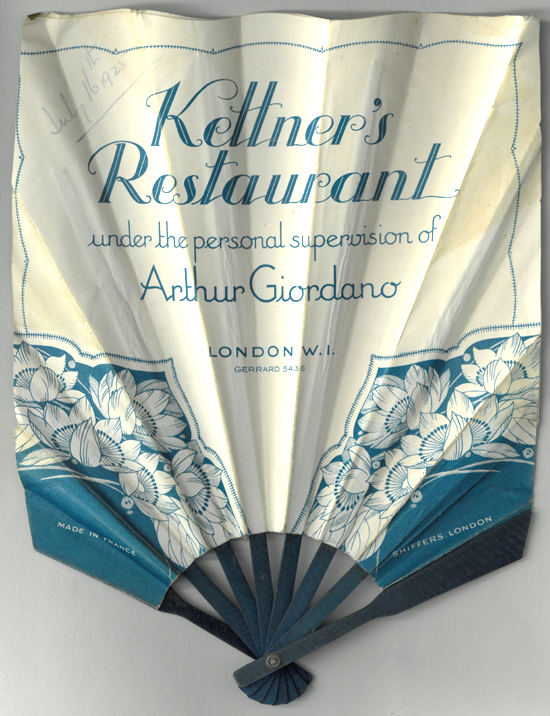 Paper fan from Kettner's Restaurant, dated 16 July 1925 (GD/43/5)
Beyond these personal collections, other items have come into the Inn's custody which shed light on Middle Temple life and activity. Samuel Whitty Chandler of Sherborne, Dorset, was admitted to the Inn on 10 January 1873, at the age of 21. From his first term until the end of Michaelmas 1874 he kept notes on the lectures in Roman Law by Sheldon Amos, a noted jurist of the day, given in Middle Temple Hall. These open with the statement, concerning that subject, that 'the refined knowledge of it as wanted by the practical lawyer is what we must aim at, rather than at the classical knowledge sought by the student.'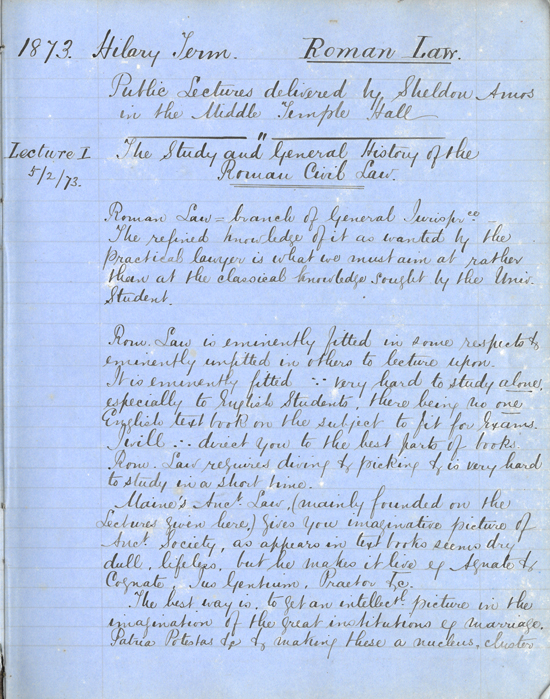 Page of Samuel Whitty Chandler's Roman Law lecture notes, Hilary 1873 (GD/37)
Leonard Diston Powles, an Inner Templar born in 1842, passed his typescript memoirs to Lord Northcliffe, editor of the Daily Mail and son of a Middle Temple barrister, in 1908, and fifty years later his nephew, Geoffrey Harmsworth, donated them to the Middle Temple. These memoirs paint a vivid picture of life at the Bar and as a young lawyer in London, and provide an account of tradition, events and social life at the Temple. A summary of Chapter IV lists the various topics covered, which include 'Callousness of Benchers as to condition and comfort of members in those days'.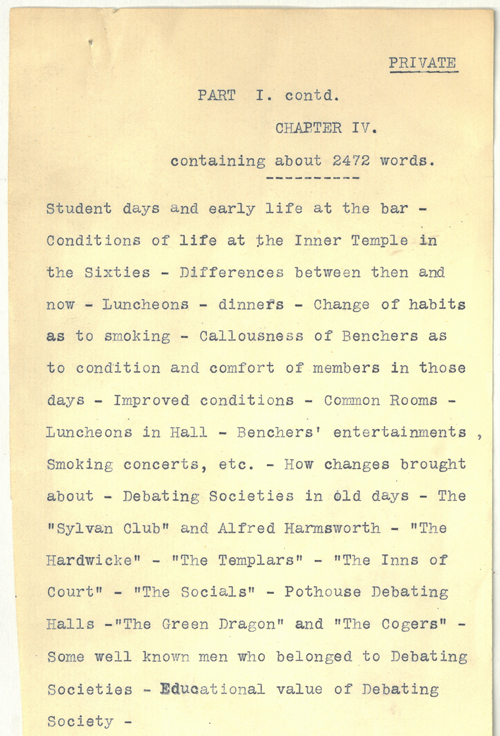 Summary of Chapter IV of L.D. Powles' unpublished memoir, c1908 (GD/2/1)
One rather cryptic object, acquired in recent years, is the 'Law Sketch Book', an anonymous, handwritten book by a Middle Temple student calling himself 'Josephus Augustus'. In this small volume, which dates from around 1820, the writer caricatures various elements and concepts of the law, accompanied by watercolour illustrations - the somewhat esoteric humour can be near-impenetrable to the modern reader.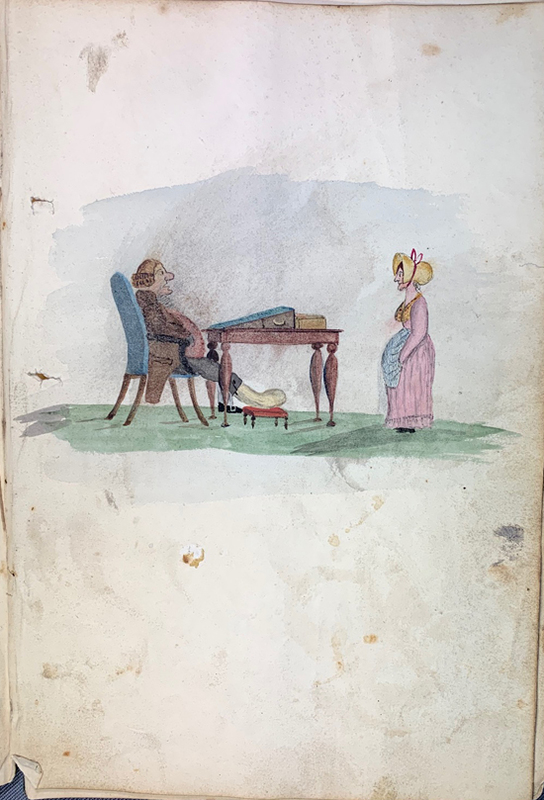 Pages from 'The Law Sketch Book', illustrating 'A Negative-Pregnant' (GD/73)
Some items, seemingly utterly extraneous to Middle Temple life, have nonetheless found their way into the archive. A body of correspondence between two brothers in the 1690s provides a snapshot of a life in the early colonial era. The letters are from Samuel Annesley, a senior East India Company functionary in Surat, India, to his brother John, a London merchant, and contain numerous references to the trials, tribulations, dissent and disturbances among the employees of the Company there. He also endeavoured, through the correspondence, to secure a divorce for one Madame Smith, request preserved fruits to be sent out, and arrange the shipment of a consignment of diamonds, to the value of four hundred and forty six rupees, to be sold on in London. One letter accompanied a 'Mallabar Boy' (from the southwest or Malabar region of India), baptised Tobias, who was sent to Annesley's brother, and expresses the hope that the boy might pick up some English on the voyage.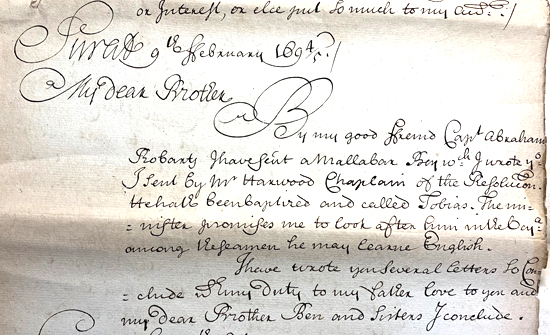 Letter from Annesley to his brother accompanying a Mallabar boy, February 1694/5 (GD/20/1/6)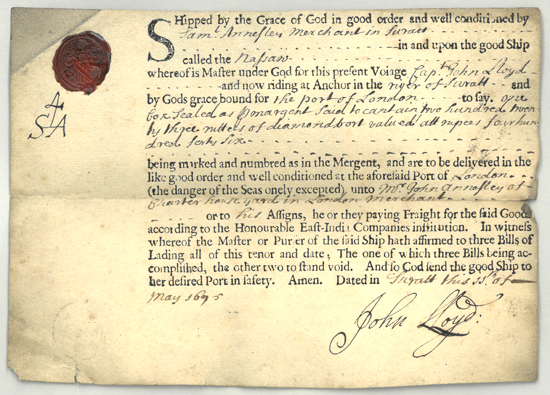 Bill of lading for a consignment of diamonds sent by Annesley from Surat (GD/20/3)
One archival ephemeron which has survived in the collection, perhaps originally belonging to a member of the Inn, is a ticket for a seat in a box at a performance of 'The Country Lasses', staged for the benefit of Mr Winteley, pit-keeper, at the Theatre Royal in Covent Garden. The play was written by Charles Johnson, a resident of Gray's Inn, and first performed in 1715 at the Theatre Royal (now commonly known as Drury Lane) - a stone's throw from the Inn, and later to be managed by Middle Templar playwright Richard Brinsley Sheridan.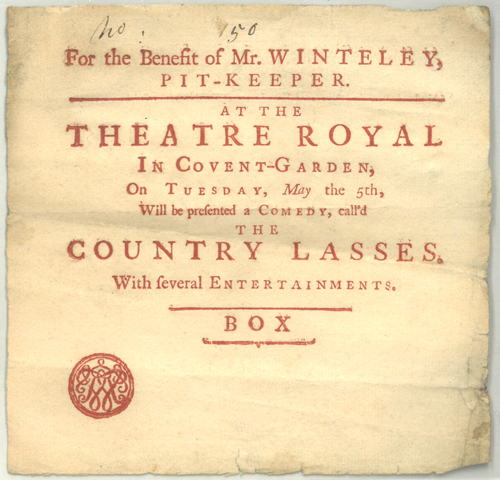 Ticket for a performance of Charles Johnson's 'The Country Lasses', early C18th (GD/19)
A later example of the fascinating and diverse miscellany in this corner of the archive is the collection of 'Handbooks of Enemy and Enemy-occupied Europe', dating from 1943. At that point in the Second World War, preparations were being made for the liberation of enemy-occupied countries in Europe, and the invasion of enemy territories, in which British forces were to play a major part. It was expected that Army Commanders would at least temporarily be required to take on the administration of these countries, and so these guides were produced to provide key information to aid their work in those weeks and months.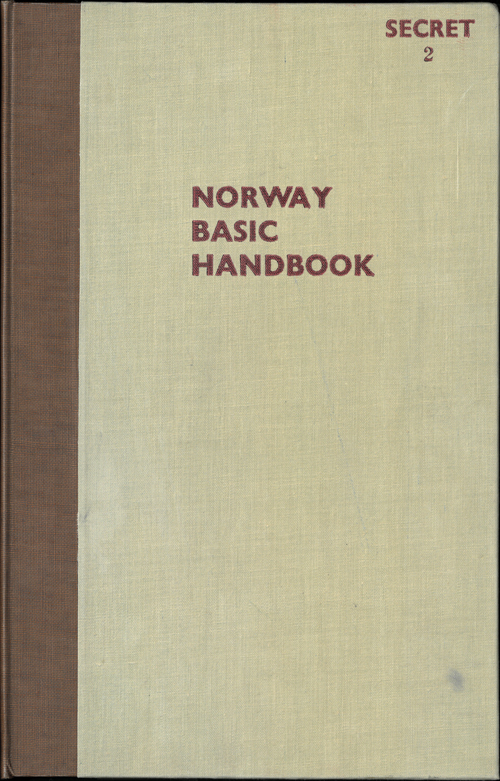 Norway Basic Handbook, 1943 (GD/53/2)
The guides contain a wealth of information - histories of each country leading up to their occupation by the enemy, accounts (often firmly rooted in stereotype) of the character of the population, political analysis, extensive economic and industrial data, and detailed maps. Two Middle Templars were involved in their production - the Director of Political Warfare Intelligence, Eric Sachs, later Lord Justice Sachs and Treasurer for 1967, and Lieutenant Colonel Henry Hope.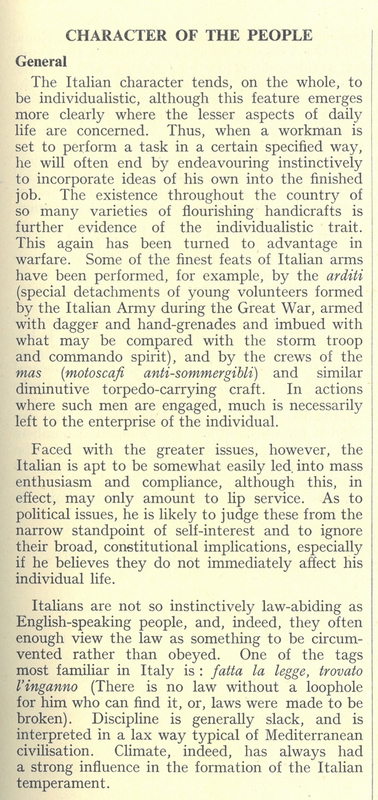 Statistics on Norwegian Fisheries, and an account of the character of the Italian people, from the Basic Handbooks for Norway and Italy, 1943 (GD/53/2 & /7)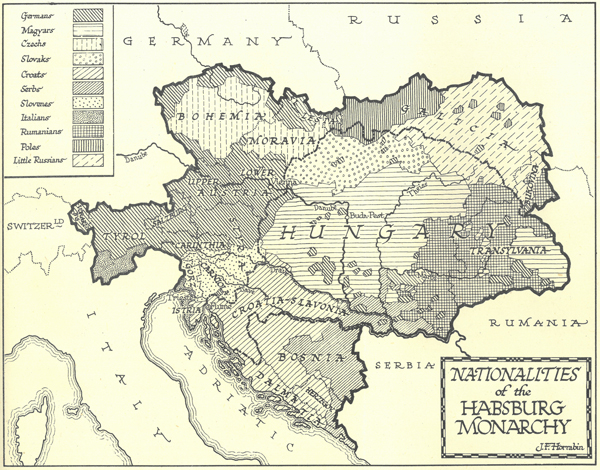 Map indicating nationalities under the Habsburg Monarchy of the Austro-Hungarian Empire, from the Basic Handbook for Austria (GD/53/6)
The artist Louis Wain (1860-1939) was most famous for his drawings and paintings of cats, which he produced over a period of more than fifty years. In 1906, a Middle Temple barrister called Ronald Livett was in his chambers at 2 Essex Court discussing a certain brief with Wain. While they conversed, Wain sketched one of his famous cats on the back of an envelope and gave it to Livett, whose daughter donated it to the Inn decades later - the drawing remains in the archive today.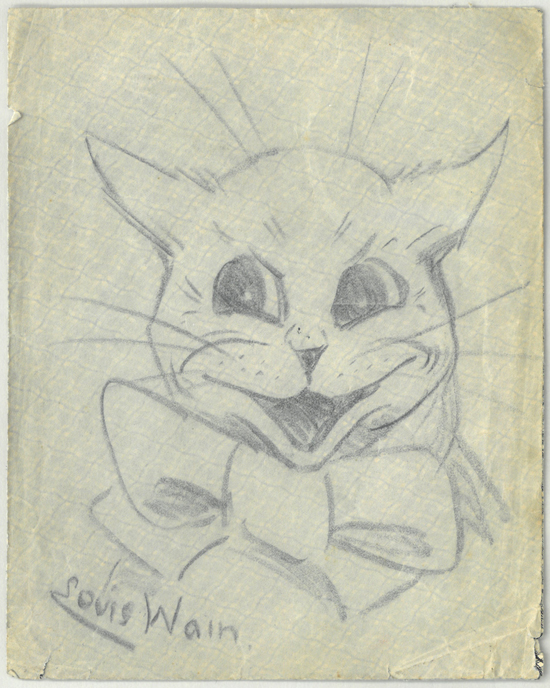 Sketch of a cat by Louis Wain, 1906 (GD/29/1)
While the Middle Temple Archive is primarily composed of and concerned with the records of the Inn's activities, transactions, life and evolution, there is nonetheless much to be gained from an investigation of the assorted material which has found its way into the collection from further afield. These diverse items and collections, sampled above, paint a picture of the wider cultural and historical context in which the Inn and its members have been situated throughout the Middle Temple's long and varied history.