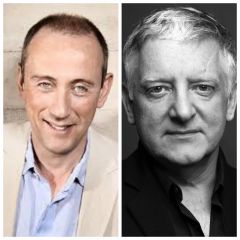 When:
Sunday, October 25, 2015 - 14:00
Add to Calendar
Details:
Sir Nicholas Hytner and Simon Russell Beale (both Honorary Benchers of the Inn) will discuss their extensive experience of Shakespeare on stage. HH Judge Philip Bartle QC,  a friend of both speakers for many years, will chair the discussion.
Sir Nicholas was Director of the  National Theatre for 12 years until March this year. During that time, he introduced far reaching changes including Travelex cheap tickets, structural changes to the theatres and considerable diversity in casting and choice of plays. His many successful productions at the National include History Boys, One Man Two Guvnors, Hamlet, Othello,Henry V and, with Simon Russell Beale, Much Ado about Nothing, Timon of Athens and London Assurance. His opera productions include Xerxes andMagic Flute which were two of the most successful productions at ENO.
Simon Russell Beale is widely recognised as one of the country's greatest actors. He has worked extensively for the National most recently as King Lear. His performance as the Dean in Temple at the Donmar earlier this year received great acclaim. In September, he will appear in Mr Foote's Other Leg at the Hampstead Theatre. In Shakespeare, his roles include Hamlet, Macbeth, Ariel, Benedick, Iago, Thersites, Timon, Malvolio and (on television) Falstaff. His passion for music has been shown in the many films about classical music that he has presented.
This is a remarkable opportunity to listen to two of the country's outstanding theatrical talents talking about their experience of Shakespeare in performance. Don't miss it.
Tickets are £15 and £25 available from https://www.templemusic.org/shop/kingdom-for-a-stage/