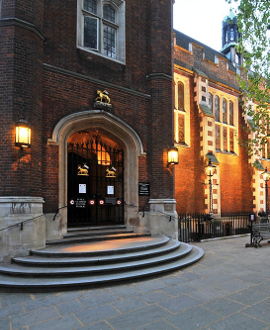 When:
Saturday, October 7, 2017 - 17:30
Add to Calendar
Where:
Temple Church, followed by Middle Temple Hall
Please note: access to the Inn on weekends is via the Tudor Street gate only, on the Inner Temple side of the grounds.  Click here for further details on how to find us.
09:30 ~ Doors Open & Registration (Temple Church)
10:00–16:30 ~ Full Programme of Talks
16:30–18:30 ~ Free Time Before Ordinary Dining Night
Details:
Event Details: 
This Introductory Session is only open to those students who are commencing the BPTC at an institution outside of London in 2017.
There will be a full programme of talks throughout the day – details will be confirmed nearer the time.  Lunch, and tea and coffee will be provided.
If you are unsure about your eligibility to attend this event please contact the Treasury Office on 020 7427 4800 or education@middletemple.org.uk
Dress Code:
Lounge Suit
Click here for more details on dress codes for Inn Events
Guests:
This event is members only.
Qualifying Session Details:
For Middle Temple students who are starting the BPTC at an institution outside of London.  To be awarded the QS you are required to arrive on time and attend all elements of this event (please check timings for each individual event).  You must hand your ticket to the Front of House staff on arrival.  Failure to do so will mean that the QS will not be awarded. Click here for more details on qualifying sessions.
Please Note:
Times and details are subject to change.  Please check the relevant webpages for the most up to date information.
Data Protection & Photography at this Event:
Please be aware that photography, audio and video recording may take place at our events. These may be used for promotional purposes by the Inn, including in printed publications, on our website, and on our social media accounts. If you do not wish to have your photograph taken or to have images of you used, please alert the Education Team at the start of the event. We are unable to guarantee that you will not be included in the background of photographs that are being taken. Contact: 020 7427 6385, education@middletemple.org.uk.
All personal data that the Inn stores and processes is held in accordance with the Data Protection Act 1998 and the Inn's Data Protection Policy. You can ask the Inn to stop using your images at any time, or request to see the personal data that the Inn holds on you. For more information please visit the Data Protection page.
Booking Tickets:
* If you are a student who has just started studying the BPTC at a provider outside of London please click here for details of how to book this event as part of your Introductory Weekend.
Ticket prices:
Tickets for standard QS events at the Inn are free of charge to students studying the BPTC outside of London up until the point where you are have booked 12 in total (black tie events carry a subsidised charge).  Click here for more information on these concessions.
Cancellations:
Student Members - To cancel a ticket please contact the Treasury Office on 020 7427 4800.  If you do not attend an event that you have booked, this will still be counted as one of your complimentary sessions.  However, if you provide sufficient notice before the event (2 clear working days) you can cancel your ticket to avoid the QS counting towards your free allowance.