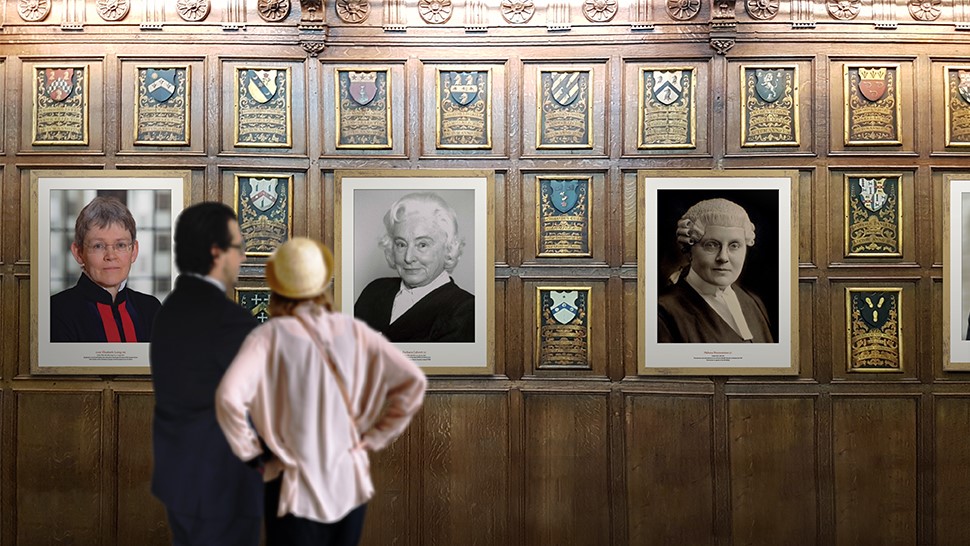 When:
Monday, September 2, 2019 - 10:00

to

Friday, January 31, 2020 - 17:00
Add to Calendar
Please note: The exhibition will run from 10:00 - 11:30, with a break for lunch. After lunch, we will open again from 15:30 - 17:00
Details:
This exhibition celebrates the centenary of the admission of women to the legal profession. The first woman to become a member of an Inn was Helena Normanton, who was admitted to Middle Temple on 24 December 1919, following the passing of the Sex Disqualification (Removal) Act. Called to the Bar in November 1922, she went on to be the first female barrister to appear in the High Court, in 1922, and the first woman to obtain a divorce for a client.  
She was swiftly followed by eight more women who were Called to the Bar by Middle Temple in 1922 and by others who were admitted as solicitors or Called to the Bar by Inner Temple, Lincoln's and Gray's Inns.
Our pioneers at Middle Temple include Monica Cobb, the first woman to hold a brief in Court; Sybil Campbell the first woman stipendiary magistrate (full-time judge); Barbara Calvert, the first woman Head of Chambers in 1974; Barbara Mills, the first woman to be made Director of Public Prosecutions in 1990 and Patricia Scotland the first black woman to be appointed Queen's Counsel in 1991.
Middle Temple today has in excess of 8000 women members, 160 women Benchers, amongst whom are several High Court judges, one Court of Appeal judge and many very distinguished law professors at universities throughout the UK.
We are proud of their achievements and celebrate 100 years of women practising law. We look forward to the next hundred years of women's contribution to the Bar of England and Wales.
What to expect
The exhibition consists of 25 portraits of women Middle Templars over the last 100 years as well as a digital exhibition of many more of our distinguished women members. We have been fortunate enough to have this exhibition curated by Rosalind Wright CB QC, a Bencher of Middle Temple. We have also specially commissioned photography for the exhibition by Chris Christodoulou. The portraits are exhibited in order of Call to the Bar.
The Exhibition catalogue is available to purchase for £5 from the Front of House Lodge at the front of Middle Temple Hall. 
A free guide is available in Hall or can be downloaded here.
For more information please visit our How to find us page. All are welcome to view the exhibition during the attached opening times (subject to change). 
Please note the exhibition will be closed to the public for the Christmas period from the afternoon of Wednesday 18 December and will re-open Tuesday 7 January 2020.
You can also contact the Membership Team on:
T: 020 7427 4800