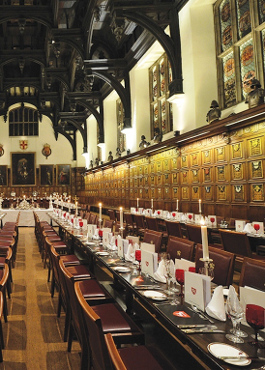 When:
Friday, November 18, 2016 - 19:00
Add to Calendar
7.00pm: Champagne & Drinks Reception
7.20pm: Doors Close for Dinner
7.30pm: Dinner
Details:
Practitioners and Judges on Circuit can sometimes get a sense of their Inn as a remote institution which they have barely seen since their Call.
This Circuit Dinner will be held to enable Circuiteers to reconnect with the Inn and with fellow members. We very much hope that Middle Templars, whether on Circuit or in London, will take this opportunity to meet. This is also an opportunity for students with an interest in practising on Circuit to find out more.
Members are welcome to bring guests.
Dress code: Jacket and tie; no gown.
Booking 
Barrister and Student members can book tickets through the Treasury Office on 020 7427 4800. Tickets will go on sale from Monday 5th September. Unless the event sells out earlier, booking will close at 2.00pm two working days before the event.
Masters of the Bench can book tickets through Richard Frost at benchers@middletemple.org.uk or on 020 7427 4804.
Please note
Times are subject to change.
This event counts as one Qualifying Session.  To be awarded the QS for this event students are required to attend the entire evening. 
Students must hand their ticket to the porter on duty on arrival at the Hall.  Failure to do so will mean that the QS will not be awarded.