The Middle Temple Noticeboard is place for advertising items that may be of interest to our members, for example external CPD lectures, wigs and gowns for sale, social events, work experience opportunities, accommodation, etc. The Inn does not accept liability for the accuracy of these notices.
If you would like to advertise on the Inn's Noticeboard please contact us at members@middletemple.org.uk.

Law Commission event 22nd November
Wednesday, 14th November 2018
The Law Commission of England and Wales is hosting an evening with practitioners to discuss thoughts and ideas for reform of the confiscation regime, contained in Part 2 of the Proceeds of Crime Act 2002.
Thursday 22nd November 2018
18:00 – 19:00pm
7 Harrington Street Chambers, L2 9YH.
Please RSPV to confiscation1@lawcommission.gov.uk if you would like to attend.
We would be delighted to see you there!

Paralegal to Simon Browne QC
Monday, 12th November 2018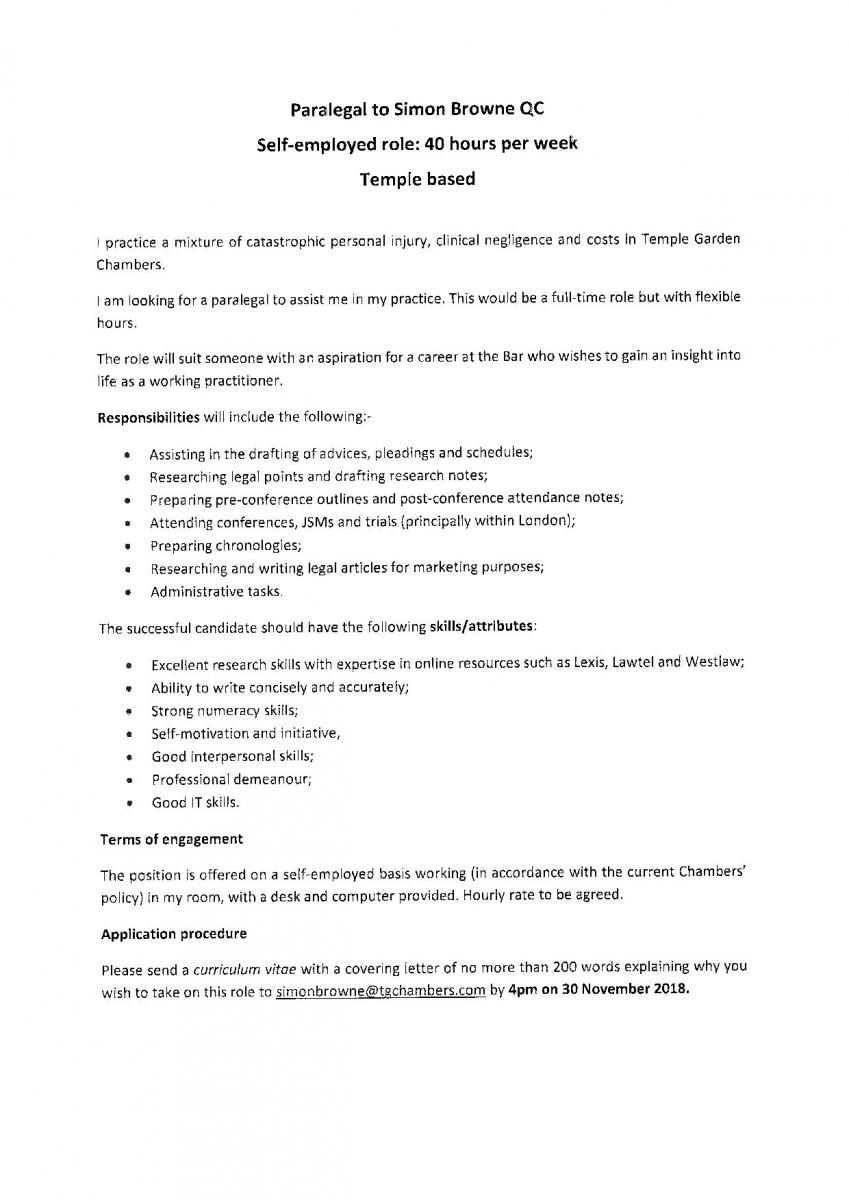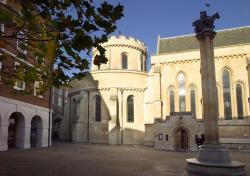 Two Choir Chaperones Needed (from January or April 2019)
Monday, 12th November 2018
Two new positions have arisen to look after the welfare of the Temple Church Boy Choristers, starting January or April 2019. We are looking for flexible, caring, and reliable individuals. One who is available weekdays (excluding Tuesday) from 16:00-18:00 and Sundays 09:00-13:00 and another to assist on Wednesdays (occasionally) and Sundays only. In addition, there will be some extra events such as the Christmas and Easter periods as well as concerts, recording and tours. Both jobs will pay £20 per hour.
Successful candidates will require an advanced DBS clearance (administered by the Church). A first aid qualification is desirable although training will be provided if necessary.
For further information or an informal chat please contact:
Liz Clarke, Music AdministratorTel: 020 7427 5650Email: liz@templechurch.com
Closing date for applications is Friday 23 November 2018www.templechurch.com
Employee Assistance Programme
Monday, 12th November 2018
The CBA, having invested in an Employee Assistance Programme are delighted the service has been transferred to The Bar Council.  The service has not changed and remains 100% confidential.  The service is now funded by the Bar Mutual Indemnity Fund and can be accessed by all Bar members, their partners and any dependents between the ages of 16-24 and in full-time education. Members of the Bar can call the confidential telephone service at any time, as many times as required and for as long as you need; counselling is available for both emotional and practical issues. You will also have access to the online services, providing information and assistance with common health concerns.
The service is already available.
Telephone: 0800 169 2040.
This is a number designated to members of the Bar exclusively. You will not have to provide any additional form of verification, and your call will be treated in the strictest confidence. Put the number in your phone now. Nobody hopes that you will need it, but we want you to have it if you do.
Click Here to Access the Online Portal 
Username: Barcouncil 
Password: EAP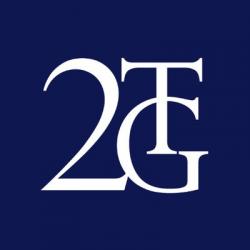 2 Temple Gardens Student Open Day
Monday, 12th November 2018
Reserve your free place now.
2 Temple Gardens (2TG) is offering students the opportunity to learn more about chambers at an open day taking place on Thursday 29 November 2018. We hope that the day will give those attending a good introduction to 2TG and insight into life at the bar more generally. The day is aimed at those applying for pupillage in the current application round and who have not previously undertaken a mini-pupillage at 2TG.
About 2TG
2TG is a leading general civil and commercial set of chambers consisting of 59 barristers including 14 silks. We are a friendly and cohesive set, and believe that chambers should be more than a place to work. We pride ourselves on the strong relationships that exist between members of chambers practising in a wide variety of areas. Across the range of work that chambers covers, one feature of our culture stands out above all others: we are all committed to excellence. In a nutshell, we are passionate about being the most sought-after advocates in our individual fields. It is this passion for excellence that unites us and makes 2TG one of the most exciting, vibrant, and ambitious chambers at the modern bar.
Members of chambers practise in a range of different commercial and common law areas, including insurance, private international law, personal injury, contractual disputes, commercial fraud, professional negligence, sports law, product liability, clinical negligence, employment and property damage.
2TG will be recruiting two to three pupils in the coming Pupillage Gateway round. The current pupillage award is £70,000. Details of the award and the application process can be found on the website.
The open day, which will take place at 2TG from 6–8pm, will involve:
Presentations from members of chambers and clerks about practice at the bar
Tips on applying for pupillage
Opportunities to ask questions on an informal basis
Unfortunately, places are strictly limited. If you are interested in attending, please send an email to the pupillage administrator at pupillage@2tg.co.uk. We will confirm whether you have got a place by email. Places will, subject to the eligibility requirements below, be allocated on a first come, first served, basis.
Please note our eligibility criteria for attending the open day:
Must be intending to apply for pupillage in the January 2019 application round
Must have obtained, or be predicted to obtain, a minimum of 2:1 at degree level
Cannot have previously done a mini-pupillage at 2TG
Cannot have previously attended an assessment day at 2TG
Please note the open day forms no part of the recruitment process.
Pages