The Middle Temple Noticeboard is place for advertising items that may be of interest to our members, for example external CPD lectures, wigs and gowns for sale, social events, work experience opportunities, accommodation, etc. The Inn does not accept liability for the accuracy of these notices.
If you would like to advertise on the Inn's Noticeboard please contact us at members@middletemple.org.uk.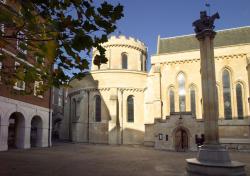 Temple Church Choral Evensong to acknowledge Brexit
Thursday, 21st March 2019
All the Inn's students are warmly invited, with any guests of their own, to
THE TEMPLE CHURCH
WEDNESDAY 27 MARCH, 5.30pm
CHORAL EVENSONG:
TO ACKNOWLEDGE BREXIT
AND ITS CHALLENGES
SPEAKER:
LORD JUDGE OF DRAYCOTE,
FORMER LORD CHIEF JUSTICE OF ENGLAND AND WALES
'O God, give us grace seriously to lay to heart the great dangers we are in by our unhappy divisions. Take away all hatred and prejudice, and whatsoever else may hinder us from godly union and concord. We beseech thee for the High Court of Parliament, that thou wouldest be pleased to direct all their consultations to the safety, honour and welfare of our Sovereign and her dominions, that all things may be settled by their endeavours on the best and surest foundations.'
– From The Book of Common Prayer, 1662
The service will be followed by refreshments in the Round Church
We will hope to see you then. With best wishes meanwhile from all of us at the Temple Church
Robin Griffith-Jones, Master of the Temple
Mark Hatcher, Reader of the Temple

How criminal procedure thinks about international human rights
Monday, 18th March 2019
Date And Time
Wed, 27 March 2019
09:00 – 17:00 GMT
Location
British Academy
10-11 Carlton House Terrace
London
SW1Y 5AH
Goldsmiths Law's inaugural annual criminal justice symposium at the British Academy. Exploring how human rights impact upon criminal procedure.
The keynote address will be delivered by Lord Hughes of Ombersley, former Justice at the UK Supreme Court, with Prof Nicola Lacey (LSE) as chair.
Confirmed participants include: Abenaa Owosu Bempah (LSE), Prof Andrew Choo (City Law School), Yvonne Daly (Dublin City University), Prof Dimitrios Giannoulopoulos (Goldsmiths Law), Richard Glover (University of Wolverhampton), Prof Jackie Hodgson (Warwick), Prof Theodore Konstantinides (University of Essex), Hannah Quirk (King's), Prof Sarah Summers (University of Zurich), Prof David Sklansky (Stanford Law School).
The key ambition of the symposium will be to shed light, and generate cross-cultural debate, on how domestic and international human rights influences shape criminal evidence and procedure, and what are the cultural, institutional or socio-political conditions that may enhance their impact or undermine their effect, particularly vis-à-vis populist criminal justice rhetoric (see e.g. in Trump's America) or legal isolationist trends (e.g. in the context of Brexit and the debate on UK departure from the ECHR).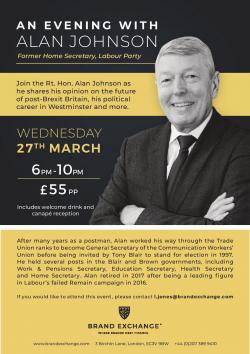 An Evening with Alan Johnson, 27th March
Friday, 8th March 2019
On 27th March, Brand Exchange will be hosting 'An evening with Alan Johnson', former home secretary of the Labour party. As any fan of BBC 1's This Week knows, Alan is a highly entertaining and thoughtful political commentator and I would like to invite your readers to join Alan for an intimate evening. Alan will discuss his extraordinary life, politics and Britain's future post-Brexit.
The evening will kick off at 6pm with a welcome drink in the Brand Exchange Members' Lounge. Alan will then speak for an hour, with time for Q&A followed by a canapé reception.
Drinks will be provided by City of London Distillery, an award winning distillery in the heart of the city. Throughout the evening we will have the pleasure of trying a variety of cocktails using their incredible gins created especially for our event.
As we inch closer to Brexit, this is sure to catch a lot of attention and I am sure many of your members would be interested. If you feel this is true, I would really appreciate you sharing our event on the Labour Business website and within your members network.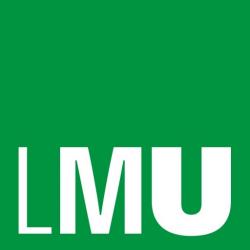 Munich Advanced Course in International Law 2019
Monday, 4th March 2019
"International law without territory? – Governing spaces, resources and people beyond the confines of state territory"
Course: July 31 - August 14, 2019  
Arrival: July 31, 2019
Departure: August 17, 2019
In the 2019 course, the MACIL classes are going to question the importance of "territory" in the current framework of the international legal order. Seminars will look into the regulation of "spaces" (e.g. governance of the high seas), the regulation of "resources" and their use (e.g. the regulation of foreign investments), and the governance of "people" (e.g. in the context of refugee movements). The ongoing significance of the concept of territory will be discussed not only from a theoretical perspective, but also with a view to its practical implications in different areas of international law. Classes will also explore areas in which the territorial focus of international law is increasingly replaced by alternative (e.g. "transnational") modes of governance. 
We are pleased to accept applications from law students, students of political science and young academics and professionals. Participants should have a basic knowledge of public international law and a good command of English.
Deadline for applications is 1 April 2019 (early birds) / 1 May 2019. 
Bar Choral Society Summer Concert
Monday, 4th March 2019
Monday 8 July at 19:30 in Temple Church.
Tickets are available now priced £10 & £20 from Temple Music Foundation https://www.templemusic.org/shop/barchoralsociety/
At the concert The Bar Choral Society will be joined by the Choristers of the Temple Church, The Percussion Ensemble of London, and Iain Farrington and John Reid on piano – all under the baton of The Bar Choral Society's Music Director, Greg Morris.
The Concert programme comprises:
Jonathan Dove Arion and the Dolphin 
Britten Salley Gardens
Britten O Waly Waly
John Ashton Thomas Psalm 133
Jonathan Darbourne Home
Jonathan Darbourne Loch Lomond
Constant Lambert Rio Grande 
More information on the concert can also be found on the Events page of the BCS website at: http://barchoralsociety.co.uk/events/
Pages