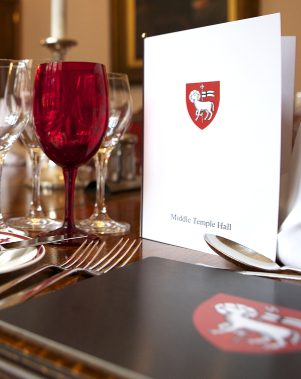 When:
Monday, October 16, 2017 - 18:45
Add to Calendar
18:45 ~ Doors Open
18:45 ~ Drinks Reception
19:05 ~ Doors Close for Dinner
19:15 ~ Dinner
This event is expected to end at approximately 21:30
Details:
Event Details: 
This will be the nineth Annual Scholars' Dinner to celebrate our new Scholars' achievement.
This year's BPTC Scholars will be invited to attend as guests of senior members of the Inn.
(Please note that if you have deferred your scholarship you will be invited to attend the dinner in the year in which you will start on the BPTC).
Dress Code:
Lounge Suit
No Gowns for Members
Click here for more details on dress codes for Inn Events
Guests:
This event is Members only
Qualifying Session Details:
This event is not a Qualifying Session
Please Note:
Times and details are subject to change.  Please check this webpage for the most up to date information.
There are certain rules and customs that members and guests are expected to observe when attending formal Qualifying Sessions at the Inn.  Click here for more details on dining rules and customs.
Dietary Requirements:
If you have any dietary requirements please ensure that you inform the Scholarships Officer no later than 14.00 two working days before the event.  When seated in Hall please make a member of staff aware of these requirements so that they can serve you accordingly.  
Click here for more details on dietary requirements.
Data Protection & Photography at this Event:
Please be aware that photography, audio and video recording may take place at our events. These may be used for promotional purposes by the Inn, including in printed publications, on our website, and on our social media accounts. If you do not wish to have your photograph taken or to have images of you used, please alert the Membership Team at the start of the event. We are unable to guarantee that you will not be included in the background of photographs that are being taken. Contact: 020 7427 6385, members@middletemple.org.uk.
All personal data that the Inn stores and processes is held in accordance with the Data Protection Act 1998 and the Inn's Data Protection Policy. You can ask the Inn to stop using your images at any time, or request to see the personal data that the Inn holds on you. For more information please visit the Data Protection page.
Booking Tickets:
New BPTC Scholars will receive an invitation for the dinner in the year they start the Bar course.
Masters of the Bench and Hall members are invited to book a double ticket for themselves and a scholar by clicking here.  If you are not able to attend but would still like to support the event it is possible to buy a ticket for one of more scholars - to do so please contact Christopher Bates on c.bates@middletemple.org.uk
Cancellations:
Scholars are asked to contact the Scholarships Offer if they find themselves unable to attend.
Masters of the Bench - are reminded that cancellations received after 17:00 on the day before the event will incur the full cost of the Event. To cancel please contact 020 7427 6385 or email benchers@middletemple.org.uk