Materials from the collection may be consulted between 10am and 4pm (with some exceptions for members requiring case material). An appointment must be made in advance by contacting the Librarian by telephone on 020 7427 4830 or email library@middletemple.org.uk.
Because of the unique and fragile nature of the collection, all readers wishing to consult material from the Rare Book & Manuscript Collection must adhere to the following guidelines for use:
Members and non-members alike must make an appointment to consult any of the rare books or manuscripts.
Non-members must show proof of identity on arrival and provide their address.
All large bags and coats must be left with the staff at the Enquiry Desk.
Researchers may only use pencils while consulting the collection (no pens, highlighters, etc.)
No food or drink (including water) is allowed while consulting the collection.
Researchers must make use of book rests and book weights as appropriate.
Researchers are responsible for all material consulted.
Material may not leave the Library and must be consulted at a designated table within the Library.
Copying (including scanning and photographing) is restricted, depending on the state of the material. Please consult library staff for further information.
Research charges may apply.
Please contact the Librarian with any queries you may have regarding these guidelines.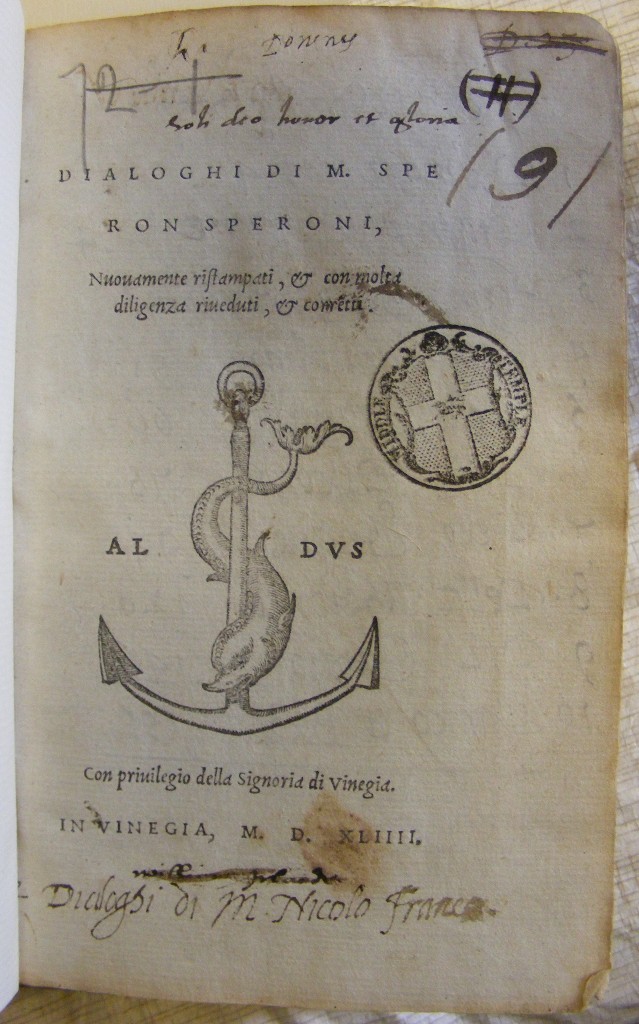 Annotations in Dialoghi di M.Sperone Speroni, 1545