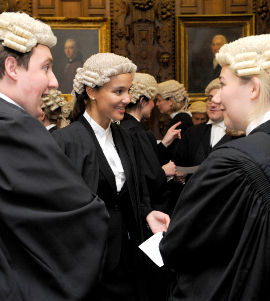 When:
Thursday, March 9, 2017 - 18:00
Add to Calendar
17:00 - Callees Registration & Briefing
18:00 - Call Ceremony
Details:
Students can be Called to the Bar once they have successfully completed the BPTC and been credited with 12 Qualifying Sessions. Attendance at the meal after the Call ceremony can be credited as the 12th and final session.
Applications can be submitted before BPTC results have been confirmed, and before all Qualifying Sessions have been completed, but Call to the Bar may only take place when all pre-conditions are met.
Dress Code for Callees: Court dress, including wig, gown and bands (further information will be emailed to Callees)
Dress Code for Guests: Smart Casual
Dress Code for Benchers: Lounge Suit
Gowns for Members: Yes
Guests of Callees: Yes (numbers may be limited)
Guests of Benchers: No
Application for Call:
The deadline for application for Call in March is 4.00pm on 13 February 2017.
Registered Callees will be emailed a separate timetable for the evening nearer the time.
Booking Ceremony and Dinner Tickets:
Callees will be notified by email when tickets go on sale.
Please note:
To be awarded a Qualifying Session Callees are required to attend the dinner after the Call ceremony - click here for more information