The Inn offers a number of services and provides information to its student members to help them hone their skills as advocates and introduce them to life at the Bar.  Please use the links to the left or contact the Education Department on 020 7427 4800 if you have any enquiries with regard to any of the above services.
The following is a breakdown of who is responsible for what in the Education Department so you know who to speak to when you call us:
Christa Richmond, Director of Education Services for Education and Training Programs and Management, CPD, Pupil Supervisors and organising Qualifying Sessions
Sally Yorke, Education Services Manager for larger group tour requests, Call to the Bar, Advocacy Training Weekends, Mooting, Equality Diversity and Social Mobility, Outreach and Lodgings
Sarah Hankinson, Assistant Students Officer for Individual tour requests, the Marshalling Scheme, Specially Qualified Applicant Admissions (e.g. transferring Solicitors and Barristers) and Call to the Bar
Indira Pillay, Training Officer for Post Call Training Courses
​Melissa Tucker, Student Records Officer for Student Admissions and the Sponsorship Scheme
Christopher Bates, Scholarships Officer for Scholarships and Prizes and Access to the Bar Scheme
Jessica Masi, Education Services Coordinator for Mooting, Advocacy Training Weekends (at York and Cumberland Lodge), Post Call Training Courses, Social Media and Lodgings
Madeleine Cirdei, Education Office Assistant for the Mock Pupillage Interview Scheme, General Enquiries and Lodgings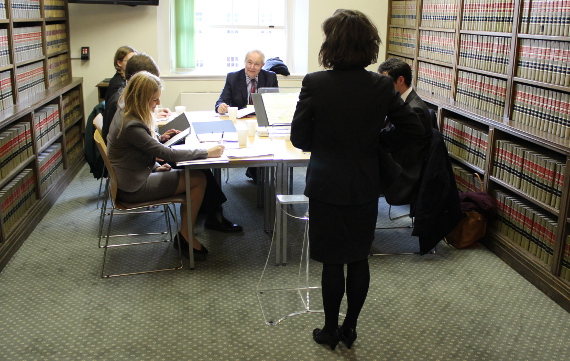 Master Kearns, President of the High Court of Ireland, judging a moot in the Rutledge Suite.