MTSA & BWIL: #BlackLivesMatter & Cultural Shifts Anniversary QS
Friday 23rd of July 2021 18:00
Online registration has ended for this event
Location
Online via Zoom (joining link will be circulated via email)
Timings
18:00 - 19:15
Ensure that you have joined before the QS is due to start.
Event Details
This event is open to members of all the Inns
Middle Temple Student Association & Black Women in Law are excited to bring you the anniversary QS #Black Lives Matter & Cultural Shifts, with Master Banton as our headline speaker.
Members of other Inns, please book your ticket via Eventbrite HERE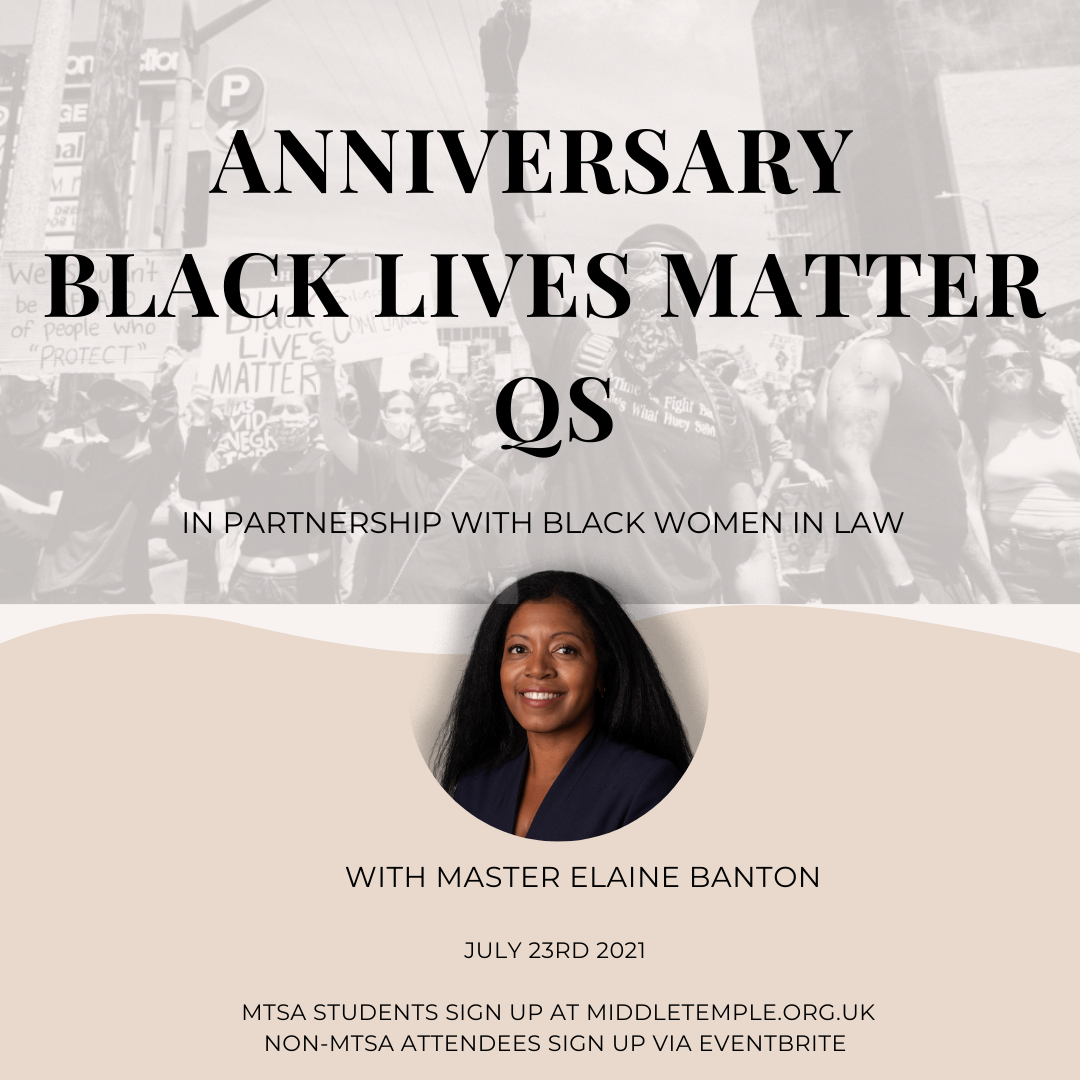 About this event
Master Elaine Banton specialises in employment and discrimination law. As well as dealing with multi-strand discrimination matters, she also advises individuals and public bodies on high-level policy matters.
In this QS, we will be taking a 360-degree review of crucial things that have taken place since the murder of George Floyd. Plus, look at how we achieve better in the following areas:
Economic equality
Health equality
More equality throughout the justice system
It will be an educational and encouraging event.
To find out more about BWIL, please visit their website
Guests
This event is open to members of all the Inns.
Qualifying Session Details
Click here to see details of the QS Requirements and how to be credited with the QS for this session
Learning Outcomes:
After this session, students should be able to:
Demonstrate an understanding of some of the challenges still faced by black people as a collective group in society and throughout the criminal justice system.
Illustrate the importance of CD1 & CD8 to the legal profession.
Explain what positive changes are taking place and where there is still a need for improvement
Links to the Professional Statement, wider workings of the Bar, administration of justice or a public interest matter
Public interest - This QS relates to equality and race within society and the legal profession
Bookings and Cancellations
Members of Middle Temple can register for this event online
Members of other Inns, please book your ticket via Eventbrite HERE
Where we have a waiting list we will offer your ticket to someone else, so please do cancel your ticket if you are no longer able to attend.
Click here to view our Bookings and Cancellation Policies
Data Protection & Photography
Please be aware that photography, audio and video recording may take place at our events. These may be used for promotional purposes by the Inn, including in printed publications, on our website, and on our social media accounts. If you do not wish to have your photograph taken or to have images of you used, please alert the EducationTeam at the start of the event. We are unable to guarantee that you will not be included in the background of photographs that are being taken. Contact: 020 7427 4800, education@middletemple.org.uk
All personal data that the Inn stores and processes is held in accordance with the Data Protection Act 2018 and the Inn's Data Protection Policy. You can ask the Inn to stop using your images at any time, or request to see the personal data that the Inn holds on you. For more information please visit the Data Protection page http://www.middletemple.org.uk/about-us/data-protection
Times and details for this event are subject to change. Please check this webpage for the most up to date information.