On Christmas Day 1119, at the instance of King Baldwin II of the Latin Kingdom of Jerusalem and of the Patriarch of Jerusalem, nine knights took monastic vows, styling themselves The Poor Fellow-Soldiers of Jesus Christ. They were quartered near the remains of the Temple of Solomon, of which only the Western Wall now remains. This explains the other name by which the Order was known: the Knights of the Temple of Solomon. The purpose of the foundation was the protection of pilgrims from Western Europe on their way through the Levant to visit the Holy Places. A considerable increase in the numbers making that pilgrimage and the developing conflict between Christians and Muslims made that protection necessary.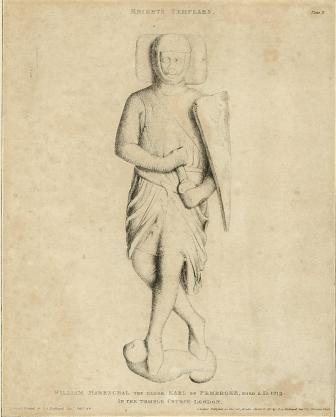 Once established, the Order grew quickly in its importance. Houses of the Order were founded in many European countries to recruit members and to support the knights in the field in the Levant, or Outremer as it was known. The building and maintenance of their many castles there, the payment of local mercenaries and the attendant costs were considerable. In England, the Order's first House was in Holborn where the original Round Church was built, all Templar Churches being circular on the model of the Church of the Holy Sepulchre in Jerusalem. Within a short time the Order was given land South of what is now Fleet Street and moved to the New Temple. The Round of the present Church was built and was consecrated in 1185 in the reign of Henry II by Heraclius, Patriarch of Jerusalem.
Part of the land formed a monastery and part remained unconsecrated. The monastic buildings lay around the present Church Court, hence the present-day building called Cloisters, with the refectory on the site of what is now Inner Temple Hall. Another hall lay to the east of Middle Temple Lane and housed the lay brethren and other laymen. Laymen of knightly rank could serve with the Order.
The New Temple soon developed connections with the King's administration and particularly with the Exchequer. At the height of the Templars' influence the New Temple was a centre of royal, diplomatic and fiscal activity. A secure site held by a religious and military Order could not be bettered for the purposes of a treasury. The Bishopric of Ely and the Exchequer were closely connected. As early as 1257 the incumbent Bishop succeeded in the Courts in a claim that his See enjoyed as of ancient right a lodging 'in the houses of the Master' with rights in the Hall and other buildings.
The Master was the head of the House in England, though subject to the Grand Master in Outremer. Even today that title and tradition live on. The priest appointed to the Temple Church is called 'The Master': his proper style is 'The Reverend and Valiant'. The Middle Temple still speaks of itself as Domus and the two Inns are on occasions referred to as the 'Societies of this House'.