It was once speculated that the two Inns of the Temple arose from the division of a single earlier one, but that is now thought to be improbable. The likelihood must be that the Judges delegated their duty to license, or as we say today to 'Call', practitioners to the four Societies that exist today, and that those Societies all came into being at about the same time in the mid-14th century.  In 1339 the King's central courts returned permanently from York to Westminster.  It is highly probable that this would have resulted in numbers of lawyers seeking permanent accommodation within easy reach of the courts at Westminster.  Those who settled in the Temple became the tenants of the Hospital of St John until the lands were seized by the Crown at the Reformation.  Thus when Edmund Plowden built the Hall that remains the glory of this Inn, he constructed it on what was Crown land.  The Middle and Inner Temple did not enjoy any clear title to the New Temple until the issuing of James I's letters patent in 1608.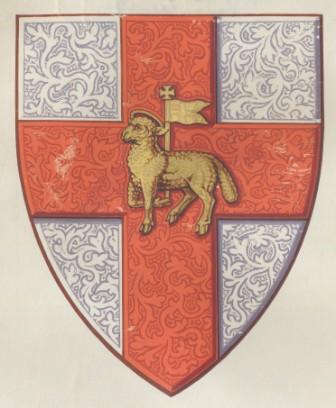 An explanation of why this Inn is the Middle Temple, when the Outer Temple is no more than the name of a Victorian office building, is found in the 1337 Close Roll. 
The Templars had kept open the main gate of the Temple in the daytime so that those travelling between the City and Westminster could pass through the New Temple and embark at the 'bridge' or jetty below; to go by river was then the preferred route. In 1329 there were complaints that the gate was now closed and the bridge ruinous so that travellers, among whom the King's justices and clerks of the Chancery were named, were hindered as they went about their business. In 1337 Langeford was ordered to make further repairs to the bridge, and that order referred to the lane 'through the middle of the Court of the Temple', now citing those inconvenienced as including magnates and others coming to parliaments and councils at London who crossed from the City to Westminster. There is no doubt about the line of that lane, for there are references to another gate somewhat to the East which remained closed (clearly Inner Temple Lane), nor that 'Middle Temple Lane' would have been its name in common parlance.
This Inn's Hall was, therefore, in what was seen as the middle of the Temple area. The monastic area was Inner, as nearer to the City. Early references to the two Inns are often to the Inner Inn or to the Middle Inn of the Temple. They were 'Inns' because their members lived communally, as had the members of the law schools from which they grew: they were 'Inns of Court' because their members were apprentices of the law and so of the Courts.