The Middle Temple Noticeboard is place for advertising items that may be of interest to our members, for example external CPD lectures, wigs and gowns for sale, social events, work experience opportunities, accommodation, etc. The Inn does not accept liability for the accuracy of these notices.
If you would like to advertise on the Inn's Noticeboard please contact us at members@middletemple.org.uk.
Master Arlidge launches 'The Lawyers Who Made America'
Wednesday, 14th June 2017
No other nation's creation, both politically and socially, owes such a debt to lawyers as the United States of America. This book traces the story of that creation through the human lives of those who played important parts in it: amongst others, of English lawyers who established the form of the original colonies; of the Founding Fathers, who declared independence and created a Constitution; of Abraham Lincoln, Woodrow Wilson, Justices of the Supreme Court and finally Barack Obama. Even Richard Nixon features, if only as a reminder that even the President is subject to the law. The author combines his wide legal experience and engaging writing style to produce a book that will enthral lawyers and laymen alike, giving perhaps a timely reminder of the importance of the rule of law to American democracy. 
For more information and to purchase the book, please click here.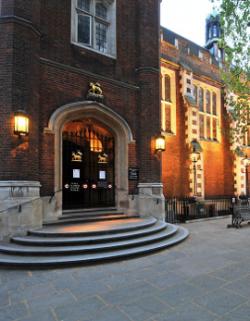 Middle Temple Hall closures 2016/2017
Thursday, 24th November 2016
2016/17 dates
Thursday 24 November 2016
Wednesday 30 November 2016
Christmas 2016
Close after lunch on Wednesday 21 December 2016
Reopen for lunch on Wednesday 04 January 2017
Easter 2017
Close after lunch on Thursday 13 April 2017
Reopen for lunch on Monday 24 April 2017
Summer 2017
Close after lunch on Friday 04 August 2017
Reopen for lunch on Monday 04 September 2017
Christmas 2017
Close after lunch on Thursday 21 December 2017
Reopen for lunch on Thursday 04 January 2018
Temple Church Boys' Choir new CD release: 'Treblesome'
Friday, 7th October 2016
'…sung with admirable precision and classy musicianship' The Guardian. Click here to read the full review
Treblesome was originally inspired by the versatility of the younger choristers' voices and showcases a range of styles rarely found at more traditional services.
The album includes Britten's well-knownMissa Brevis, as well as popular songs such as Brahms' Wie Melodien sieht es and Schubert's Du bist die Ruh. Other folk songs include Britten's Salley Gardens and O Waly, Waly, and new arrangements of Loch Lomond and Maybe it's because I'm a Londonerby Temple Church Choir's own JonathanDarbourne.
The CD also features the first recording of a new setting of Nunc dimittisby John Ashton Thomas for boys choir, organ and saxophone.Treblesome concludes with perhaps the greatest piece ever written for boys' voices: Ceremony of Carols by Benjamin Britten.
Click here for further information
Click here to purchase your copy
Bar Musical Society
Monday, 19th September 2016
The Society's aim is to promote the love and appreciation of music by student members of the Inns, barristers and Judges.
There are three or four concerts each year (held in the Inns or nearby) given by professional musicians. Concerts are followed by the option of supper. The concerts and suppers present an opportunity to meet like-minded students, barristers and Judges in an informal environment.
The Committee aim to arrange concerts of the highest standard and with a varied programme. The performers frequently join members of the Society after the concert for supper.Students and new barristers under 2 years' call are particularly welcome and are entitled to two free tickets (for the concert only).
Applications to join the Society should be made to Nikolas Clarke, Field Court Chambers, 5, Field Court, Gray's Inn, London WC1R 5EF or nikolas.clarke@fieldcourt.co.uk The next concert is a children's concert, Peter and the Wolf, on Sunday 20th November at midday in Middle Temple Hall, narrated by Sir Richard Stilgoe.
The Bar Council announces the e-Mentoring Scheme
Thursday, 18th August 2016
The e-Mentoring Scheme is a free service, which eliminates the confidence and contact barriers by granting fair and equal access to information, advice and assistance from barristers and its representative body. It is hoped that regular contact, guidance and advice from barristers will help to improve the confidence of the students to make informed decisions, and actively pursue a career at the Bar in future.
Not only will the scheme facilitate contact between barrister mentors and student mentees, the e-Mentoring platform will provide a host of features such as a current affairs stream, a debating forum, and a bulletin to advertise open days and other opportunities in the profession. This should help even the playing field, ensuring that students mentees are as adequately equipped as their competitors with the soft skills, knowledge, and understanding of the profession, the law and opportunities available.
"a very helpful experience, [which] allowed me to gain valuable insight from an experienced lawyer" (e-Mentee from the pilot e-Mentoring Scheme)
After a successful pilot, the e-Mentoring Scheme was launched in July 2016, in conjunction with Bar Placement Week. Bar Placement Week is another initiative run by the Bar Council which exposes State School students from diverse backgrounds to the Bar through guided tours, mock trials at the Old Bailey and the Royal Courts of Justice, and most importantly, a mini-pupillage with an assigned barrister for a week. This presented a great opportunity to inform talented State School students of a scheme which might help them take the next best steps - which are most critical - in their academic career.
Further information about the e-Mentoring Scheme can be found on its dedicated page on the Bar Council's website. Applications (online only) are now being accepted for students interested in being mentees on the scheme.
Pages