The Middle Temple Noticeboard is place for advertising items that may be of interest to our members, for example external CPD lectures, wigs and gowns for sale, social events, work experience opportunities, accommodation, etc. The Inn does not accept liability for the accuracy of these notices.
If you would like to advertise on the Inn's Noticeboard please contact us at members@middletemple.org.uk.

European circuit of the Bar annual conference 2017
Friday, 22nd September 2017
Thursday 28th – Friday 29th September 2017
In 2017, when nothing is certain and international relationships are in a state of flux, the European Circuit is collaborating with the Brussels Bars to explore important issues that are likely to shape cross-border litigation in the months and years to come. We are hoping that our longstanding professional friends and contacts will join us and that new voices will join the debate as the international legal ground shifts beneath our feet. The conference offers the opportunity to observe court proceedings in the Palais de Justice and then meet those working at the "coalface" over a working lunch; listen to and debate with highly experienced and eminent judges and practitioners about issues at the pinch-points of change; and enjoy fine wines and cuisine in the company of lawyers interested in cross-border issues within Europe and beyond. The conference objectives are to provide a highly enjoyable and stimulating exchange of experience and ideas and to strike up new professional relationships. The European Circuit is open to lawyers from all Council of Europe countries and we hope that many of you will join us in September in Brussels.
More info is available here.
Inns of Court Kalisher Representative
Tuesday, 12th September 2017
Inns of Court Kalisher Representative
The Role:
The Kalisher Trust is looking for one representative from each Inn who will assist:
the Trust at all Kalisher events, including education and fundraising;
in promoting Kalisher opportunities around the  Inns; and
in the administration of the Trust when required;
The Opportunity:
The Kalisher Trust team varies from junior members of the Bar to the senior Judiciary. All have a key role. You would be joining this team which will give you a fabulous opportunity to learn from and network with an evidently wide range of members of the legal profession.
This is a prime opportunity for students passionate about joining the Criminal Bar and who share the ethos of the trust.
Eligibility:
The successful candidates will:
have completed a law degree or Graduate Diploma in Law;
have completed or soon be taking the BPTC;
have an excellent academic record, and proven intellectual ability;
have a demonstrated interest in criminal law and the criminal justice system;
be motivated to succeed at the Criminal Bar, and have taken steps to develop skills and personal qualities necessary to succeed there;
have demonstrated potential as an advocate;
demonstrate financial need[1] (in confidence, candidates will be asked to supply the interview panel with appropriate evidence ).
Application Process:
Stage 1: cover letter (indicating your Inn) and CV sent to administrator@thekalishertrust.co.uk by midnight on the 1st October 2017. The cover letter must be no longer than 300 words and must explain:
why you want the role; and
how you satisfy the eligibility criteria;
Stage 2: 12 shortlisted applicants (3 from each Inn) will be invited for an interview with a panel drawn from Martin Shaw (Kalisher Vice President), Joe Harmston, Sir Brian Leveson (President of the Queen's Bench Division), Lady Justice Rafferty, Mrs Justice Carr, Max Hill QC, Merry Van Woodenberg (Kalisher Trust Secretary) and Ed Gross (Assistant Secretary).
[1] There is no financial award for becoming a Kalisher Trust representative. However, the ethos of the trust is based around helping those with limited financial backing. 
Westminster Employment Forum Keynote Seminar 12 October 2017
Wednesday, 16th August 2017
Westminster Employment Forum Keynote Seminar
Priorities for the new Careers Strategy - next steps for standards, funding and meeting employer needs
with
Clare MacDonald, Deputy Director, Careers and Basic Skills, Department for Education (subject to Departmental business)
Dr Barbara Bassot, Senior Lecturer, Canterbury Christ Church University
Charlie Mullins, Chief Executive Officer, Pimlico Plumbers
Joe Billington, Director, National Careers Service
Lesley Thain, Education Engagement Manager, The Careers and Enterprise Company
and
Dr Neil Bentley, WorldSkills UK; Bhavina Bharkhada, EEF; Brenda Cabras, Prospects; Jan Ellis, Career Development Institute; Eluned Jones, University of Birmingham; Sharon Walpole, CASCAID; Belinda Whitehouse, Dame Allan's Schools and Kath Wright, Independent Career Education Consultant
Chaired by:
Baroness Prosser
Follow us @WEmFEvents | This event is CPD certified
Timing: Morning, Thursday, 12th October 2017
Venue: Central London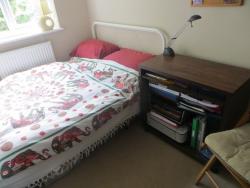 Spare room for rent
Tuesday, 15th August 2017
Spare room for rent sharing flat with criminal barrister: £140/wk bills included
Double room in Lewisham (5 mins walk from station: zone 2/3, train, DLR, bus).  Double bed, wardrobe, bookcase, desk.  Off street parking.  Close to shops, gym.  Available mid-September. 
For more info please e-mail me: anne-marie.critchley@talk21.com
FLBA Autumn Lecture Series 2017
Thursday, 27th July 2017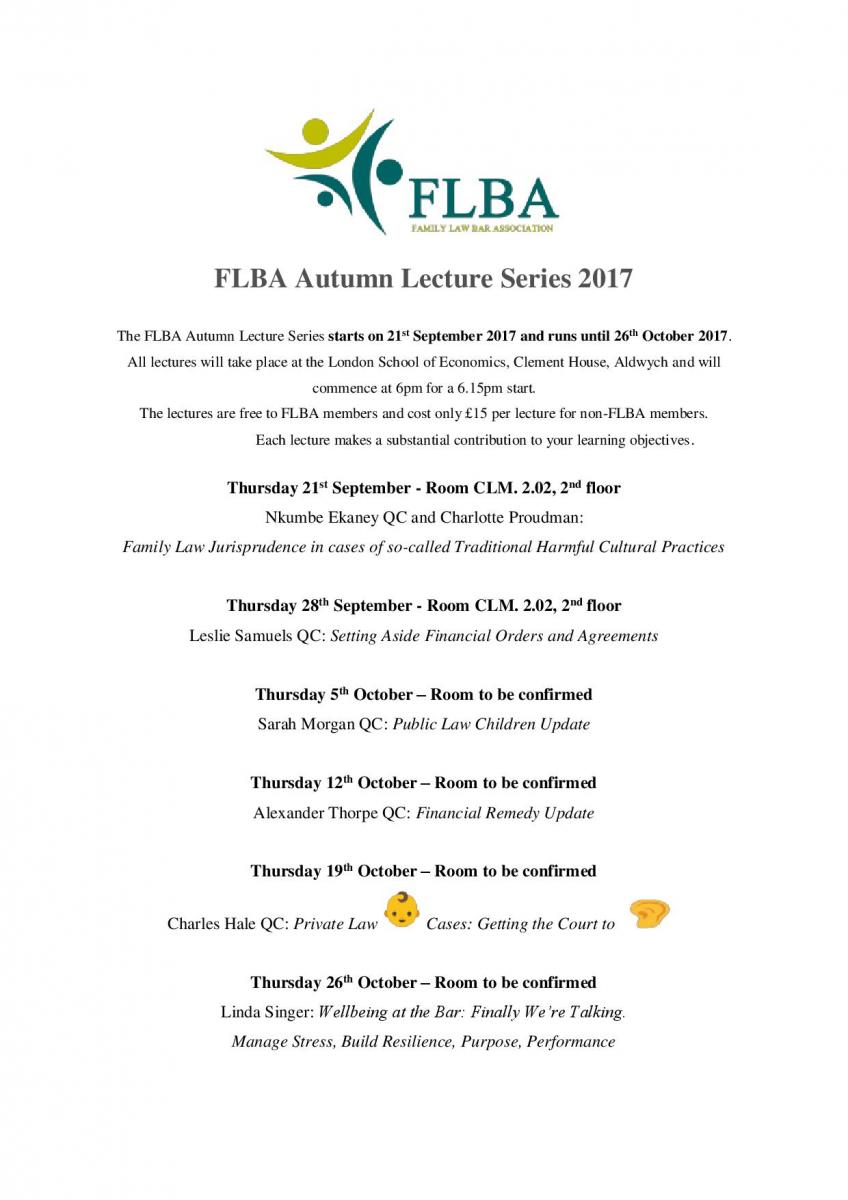 Pages