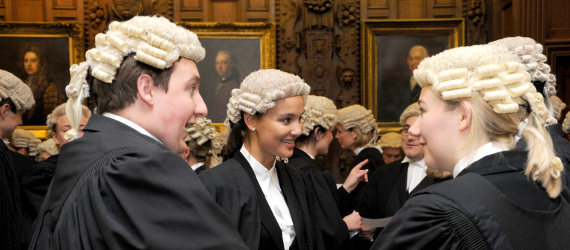 Middle Temple arranges Call ceremonies on four dates every year. 
They are held on the second Thursday in March and October and the fourth Thursday in July and November.*
Students can be Called to the Bar once they have successfully completed the Bar Professional Training Course and been credited with 12 Qualifying Sessions. Attendance at the meal after the Call ceremony can be counted as the 12th and final session. Applications can be submitted before BPTC results have been confirmed, and before all Qualifying Sessions have been completed, but Call to the Bar may only take place when all pre-conditions are met.
Specially Qualified Applicants (Transferring Solicitors, Qualified Lawyers, Legal Academics, etc.) can be Called to the Bar once they have have made a successful application to the Qualifications Committee of the Bar Standards Board for Call to the Bar of England and Wales, completed the Bar Transfer Test if required, and joined the Inn.  
 
Call Ceremonies in 2018
* Due to an increase in student members in 2017/18, we are antipating that the number being Called in 2018 may be higher than usual.  To accommodate this, we are provisionally planning to hold additional Call ceremonies, as indicated with an asterisk.  
Hilary Call - 6pm, Thursday 8 March 2018
 
Trinity A Call - 6 pm, Wednesday 25 July 2018*
 
Trinity B Call - 1 pm, Thursday 26 July 2018
 
Trinity C Call - 6 pm, Thursday 

26

 July 2018


 
Trinity D Call - 6 pm, Thursday 11 October 2018
 
Michaelmas A Call - 6 pm, Wednesday 21 November 2018*
 
Michaelmas B Call - 1 pm, Thursday 22 November 2018
 
Michaelmas C Call - 6 pm, Thursday 22 November 2018
Application for Call
The application form for the Hilary Call (8 March 2018) is available to download from the right hand side of this page.  Please follow the enclosed instructions carefully.
The closing date for applications for the Michaelmas Call to the Bar ceremonies is 16:00 on Monday 12 February 2018.
Applications for Trinity and Michaelmas Calls will open in late March.