Middle Temple arranges Call ceremonies on four dates every year. They are held on the second Thursday in March and October and the fourth Thursday in July and November.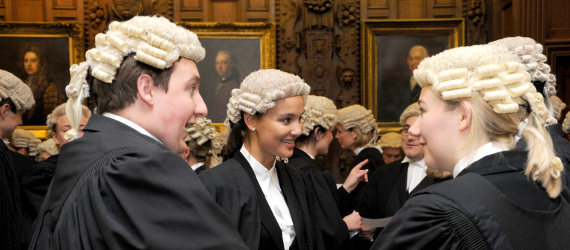 Call Ceremonies in 2017:
Hilary Call - 6pm, Thursday 9 March 2017
 
Trinity Call - 1 pm, Thursday 27 July 2017
 
Trinity 'B' Call - 6 pm, Thursday 27 July 2017
 
Trinity 'C' Call - 6 pm, Thursday 12 October 2017
 
Michaelmas 'A' Call - 1 pm, Thursday 23 November 2017
 
Michaelmas 'B' Call - 6 pm, Thursday 23 November 2017 
Students can be Called to the Bar once they have successfully completed the Bar Professional Training Course and been credited with 12 Qualifying Sessions. Attendance at the meal after the Call ceremony can be credited as the 12th and final session. Applications can be submitted before BPTC results have been confirmed, and before all Qualifying Sessions have been completed, but Call to the Bar may only take place when all pre-conditions are met.
Application for Call
The application form for the Michaelmas Calls in 2017 (23 November) is available to download from the right hand side of this page.  Please follow the enclosed instructions carefully.
The closing date for applications for the Michaelmas Call to the Bar ceremonies is 16:00 on Friday 29 September 2017.
Please note that if you applied for a Trinity Call and you have do any re-sits, you can request that we postpone your Call to November 2017 (October is not possible), and we can use the paperwork you submitted for July/October.